Hard to believe, but somehow I have never been to a Japanese steakhouse before. This all changed one night when my friend and neighbor, Epic Beard Man and his wife, invited me and some of our friends to Ichiban in Wexford. Ichiban has 4 locations throughout the Pittsburgh area and word of mouth had been pretty positive.
Ben Roethlisberger on the right > (Trust me, he is over there)
While waiting to be seated we got some drinks at the bar and lo and behold there was Ben Roethlisberger sitting next to me. Needless to say he was speechless and a little taken back to be suddenly confronted with his favorite food blogger in Pittsburgh. The wait time was only a few minutes once all of our friends showed up.
The Zombie


As some of you know I am a big fan of Tiki style drinks (my recipe for a proper Mai Tai is
here
). So my eyes lit up when I saw the classic Tiki drink, The Zombie, on the drink menu. They are called Zombies for a reason and after a few of these I was lit like a Christmas tree. So I apologize if the photos are not of the best quality.
Crab Rangoon $5.95


We all ordered a bunch of appetizers to start us off. The Crab Rangoon was deep fried won tons filled with a cream cheese and crab mixture. Crab Rangoon is one of my favorite oriental appetizers and Ichiban's was very good. The cheesy crab mixture was plentiful, and had a nice onion and sweet flavor.
sushi something or other




A lot of Sushi


Hell if I know
We also shared some sushi, and to be honest I had no idea what the hell I was eating because the Zombie had started to take hold of me. The good thing was that none of it made me gag and I didn't get sick later. High praise indeed.
Shogun Crispy Chicken $14.95


My favorite dish of the night was the one my friend had ordered sitting next to me. Of course he let me sample in the name of research. It was Ichibans take on General Tso's chicken and it was near perfect. The chicken coating was light and crispy while the sauce was spicy and not overly sweet.
Hot water soup
For my main course I ordered the Chicken Hibachi dinner. The dinner comes with soup, salad, fried rice, vegetables, noodles, and chicken. The soup had barely any flavor at all. Just tasted like watered down chicken broth.
Lettuce with crappy dressing


The salad was pretty much just iceberg lettuce with a pretty bland ginger/sesame dressing. Meh.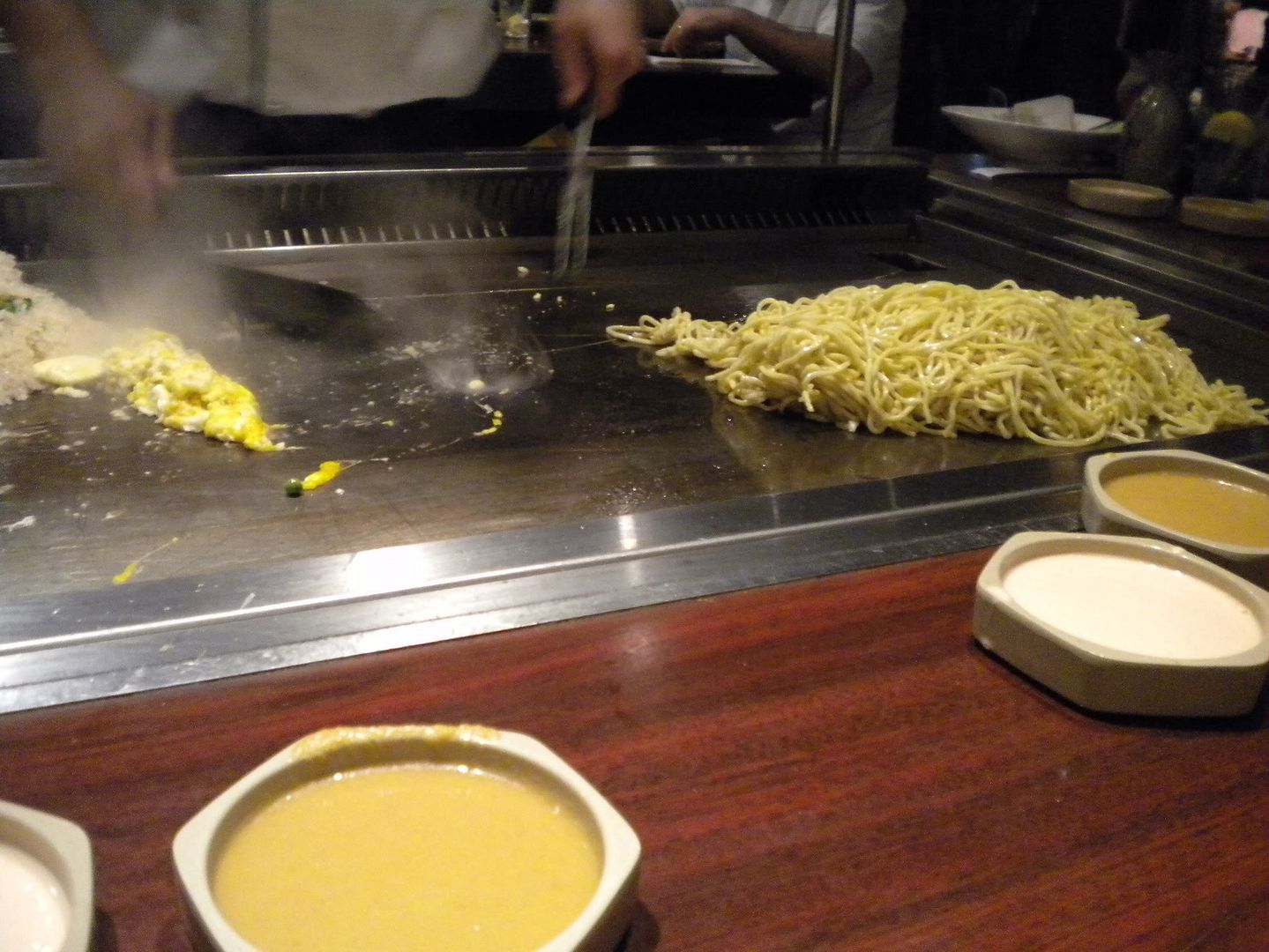 Fried Rice and Noodles
Then the fireworks began when the chef wheels out his cart and starts cooking on the flat top hibachi everyone is gathered around. Along with the fried rice and noodles they give everyone two dipping sauces. The one is a ginger sauce and the other is a mayo based sauce that the Japanese use for dipping seafood in. If anyone wants the recipe for the seafood sauce, send me an email and I will send it to you.
Fire Fire Fire


Fish
After cooking the rice and noodles, the chef starts cooking the meats and veggies. He cooks everything in sesame oil and teryaki sauce.
Steak
Chicken


All of the ingredients that they used looked fresh. For the chicken they used all breast meat, and who doesn't like breasts. The steak was a NY Strip, and the fish was red snapper.
The food tasted ok, yet it was nothing that you couldn't do at home with a wok. The prices for the actual meals were not to bad, being around $17.00-$19.00. Ichiban is very family oriented and there were a lot of families there with their kids. Also beware of the way they celebrate Birthdays. The lights go dim, all of a sudden 1980s techno music is blasting. A volcano starts to spit out fire and sparks, and disco lights are everywhere. So dont do any drugs before you go, or you might freak out or go into convulsions or something.
Would I go back to Ichiban? Sure. Its a great place to get blasted on tiki drinks and socialize with your friends. The food is pretty mediocre but really it takes second fiddle to the whole experience of watching some Japanese guy with mad knife skills, cutting meat really fast. The service was below average. They seemed to have a hard time getting our drinks out to us fast enough. Of course that might have had something to do with the amount of drinks we were ordering. Plus its damn hot sitting next to these hibachi thingies and you need to stay hydrated.
All in all a pleasant experience that was made better by having good friends to share it with.
PS: Congrats to my friends Leah and Dan who announced during dinner that Leah had been successfully impregnated by Dan. Just knew my advice on standing Leah on her head would pay off.
Rating: 6.5/10