Trader Vic's is an American/Polynesian restaurant started by Victor Bergeron in 1934 in Oakland California. In 1940 the first franchised Tradre Vic's was started in Seattle, and new Trader Vic's started to pop up in major cities during the tiki and exotica culture fad of the 1950 and 60s. During the 70s and 80s Trader Vics suffered as people were to busy listening to Abba and doing lines of cocaine to realize how cool tiki culture is. But everything is new again, and tiki bars are once again becoming the cool places to hang out and drink.
Typical Trader Vic's Decor


Les Baxter one of originators of exotica/tiki music


Some of my favorite memories are from visiting Trader Vic's in Toronto as a teenager. The South Pacific decor was something I had never seen before, and whenever you walked into Trader Vics it was like you were being transported to some exotic place in the Pacific. The great memories of Trader Vics last with me to this day in that I collect anything Tiki I can get my hands on . Im also big into 1950-60s retro culture and exotica music from that time period but that is another story.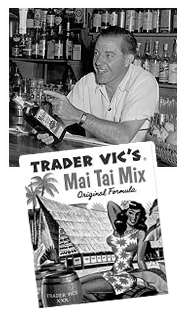 Vic Bergeron
The Mai Tai was created by Vic Bergeron at Trader Vic's in 1944. Now there has been some debate whether a fellow tiki bar owner known as Don The Beachcomber actually came up with the Mai Tai first, but research shows that Dons drink was much more complex and tasted entirely different then what Victor Bergeron came up with. Its possible that while trying to copy Don's drink, Victor just happened to stumble on the greatness of the Trader Vic's Mai Tai. Well enough with the history, lets get to making the Trader Vics Mai Tai shall we.
Trader Vics Mai Tai Recipe
5 Ice Cubes crushed
Juice from 1 whole lime
1oz Orange Curacao
3/4 oz Orgeat Syrup
1/2 oz Simple Cane Sugar Syrup
1 Dash of Angostura Bitters
1 oz Aged Jamaican Rum
1oz amber Marinique Rum
Or substitute 2oz of a good quality amber aged rum such as Appleton Estate, or Cruzan aged rum which is a real bargain for its quality.
Then add the Orgeat Syrup and Simple Sugar Syrup. In case your wondering Orgeat is an almond flavored syrup that you can find in places where flavored coffee syrups are found.
Finally add a dash of Angostura Bitters.
Shake for 10 seconds.
There you have it, a Mai Tai, a truly classic American Cocktail.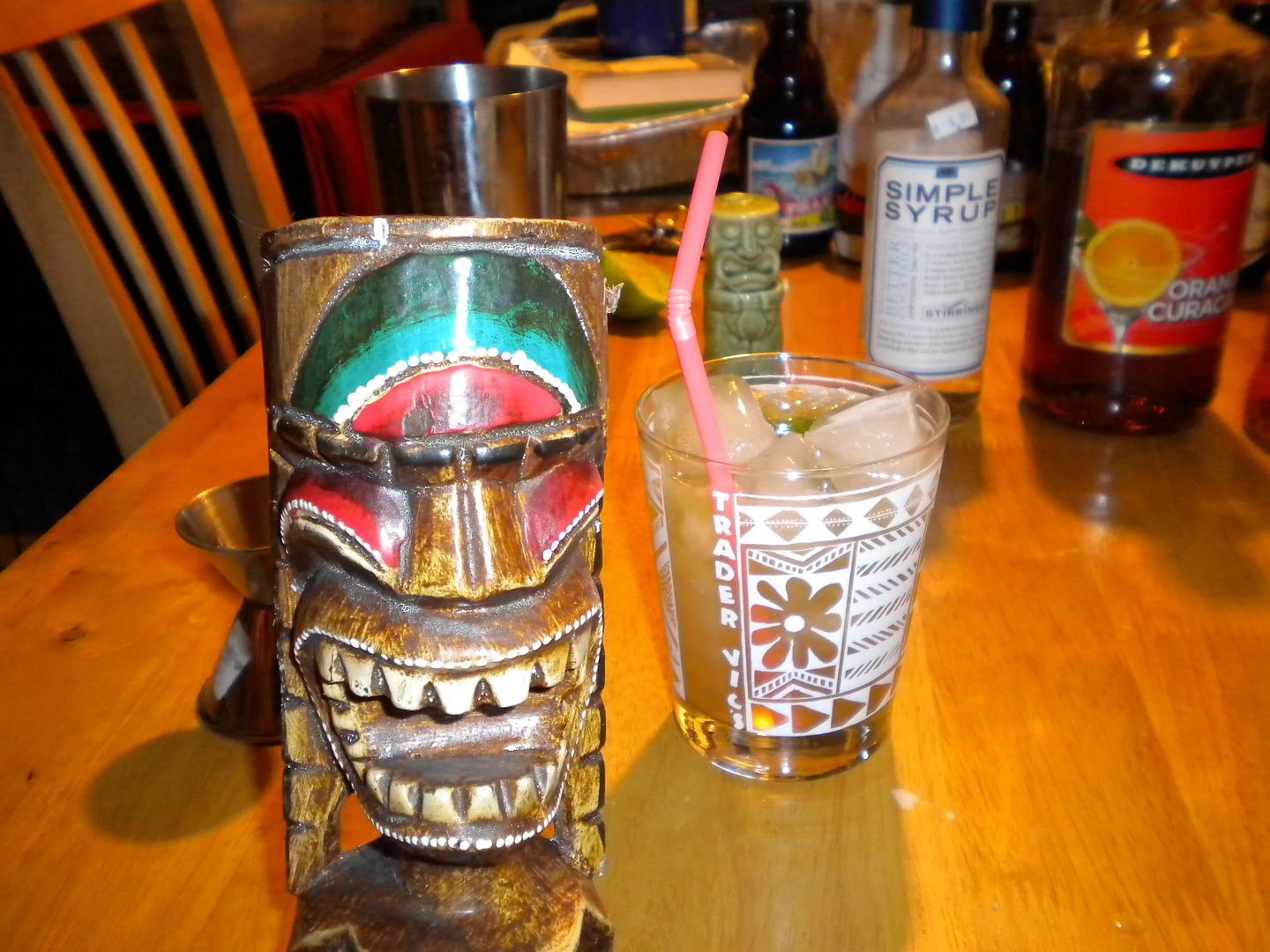 THE TIKI GOD APPROVES
Garnish your Mai Tai with a Maraschino Cherry, a wedge of lime, drink umbrella, etc.
You can buy your authentic Trader Vic's Mai Tai glasses at there
company store
.
Dont you dare
Warning to Pittsburghers, Orange Curacao is not available through Pennsylvania's archaic liquor distribution system. Blue Curacao is available and has the same flavor as the orange, but it makes for a green Mai Tai, and who the hell wants a green Mai Tai. My Orange Curacao was picked up in Ohio.