The original Pizza King
Sir Pizza has been a family operated franchise in the North Hills of Pittsburgh since 1975. In just the past 3 years, Sir Pizza has expanded from its sole location in Ross Township, to two other locations in Franklin Park, and Cranberry. Sir Pizza is a franchise based in Muncie Indiana. The original pizza shop in Muncie is known as Pizza King and Sir Pizza incorporated was created when they decided to franchise out their business model in 1965.
Sir Pizza International now boasts over 200 pizza shops, with most being located in Indiana, Michigan, and Tennessee.
14 Inch Sausage and Pepperoni
There are quite a few things that make Sir Pizza unique in the over saturated pizza market here in Pittsburgh. The number one thing you will notice is that the pizza is cut into small squares instead of large triangular slices. Sir Pizza also uses smoked provolone instead of the traditional mozzarella . The toppings are all ground very fine and are placed to the very edge of the pizza. Finally the crust is very thin and crisp, not at all doughy and floppy like most pizza places.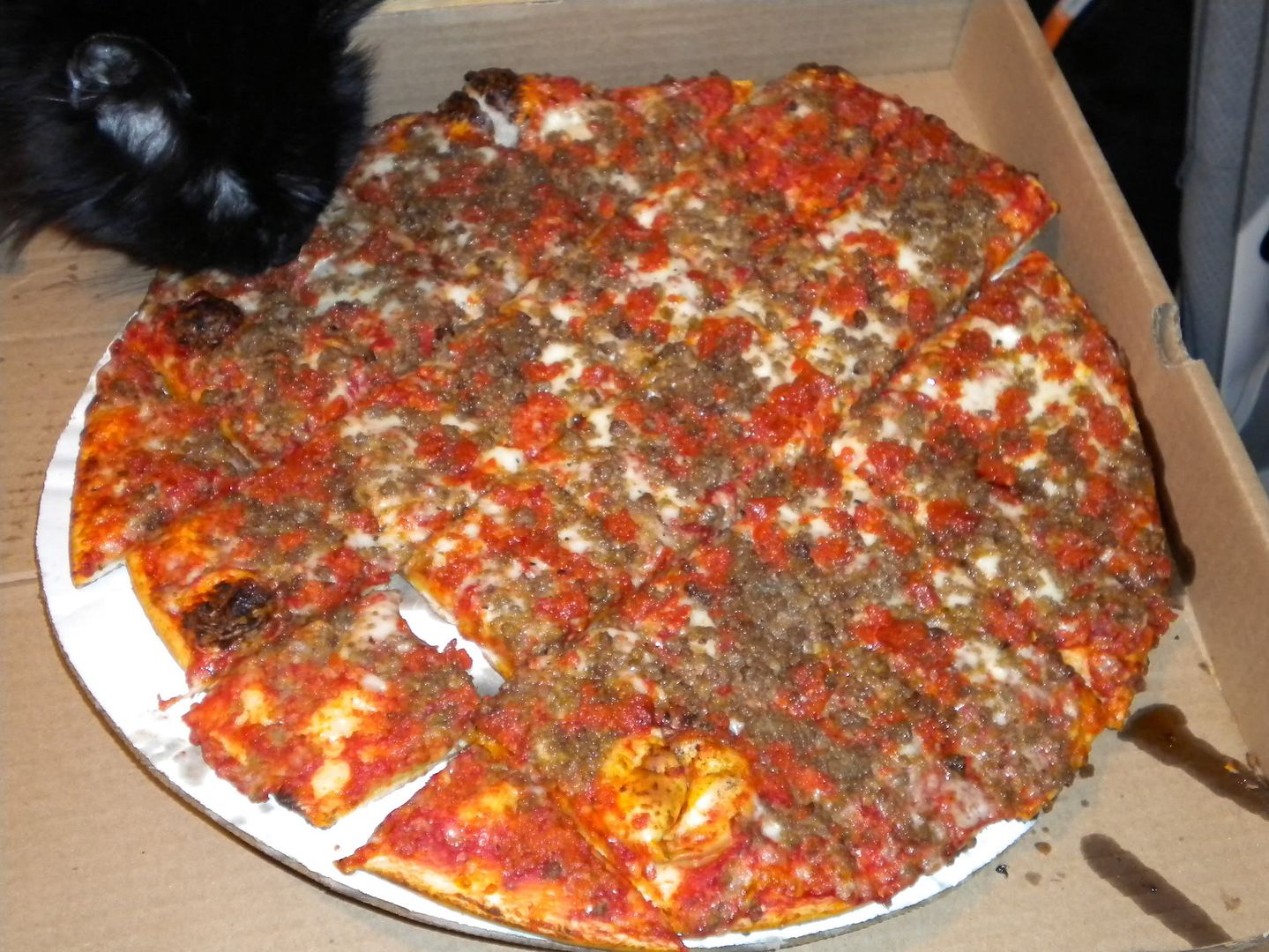 The Fuzz Loves Sir Pizza
The pizza being reviewed was a 14 inch sausage and pepperoni pizza that cost $14.40. A whole Crusader Hoagie was also purchased at $7.25. Never have I ever seen any specials or coupons in the weekly circulars for Sir Pizza. This however might be different for the new locations in Franklin Park and Cranberry. The order was called in and I was told it would be ready in 15 minutes. When I arrived at the Ross location 20 minutes later to pick up the food, it was ready to go and I was rang up quickly. A few notes about the Ross Township location is that they sell 6 packs of beer to go, with a nice variety of microbrews to choose from. If you decide to eat in the dining area which has about 20 tables, they also have beer on draft. It amazes me that the same people that have been making the pizza for the past 15 years, that I have been going to Sir Pizza in Ross, are still there. One of the benefits to going to a family run restaurant I guess.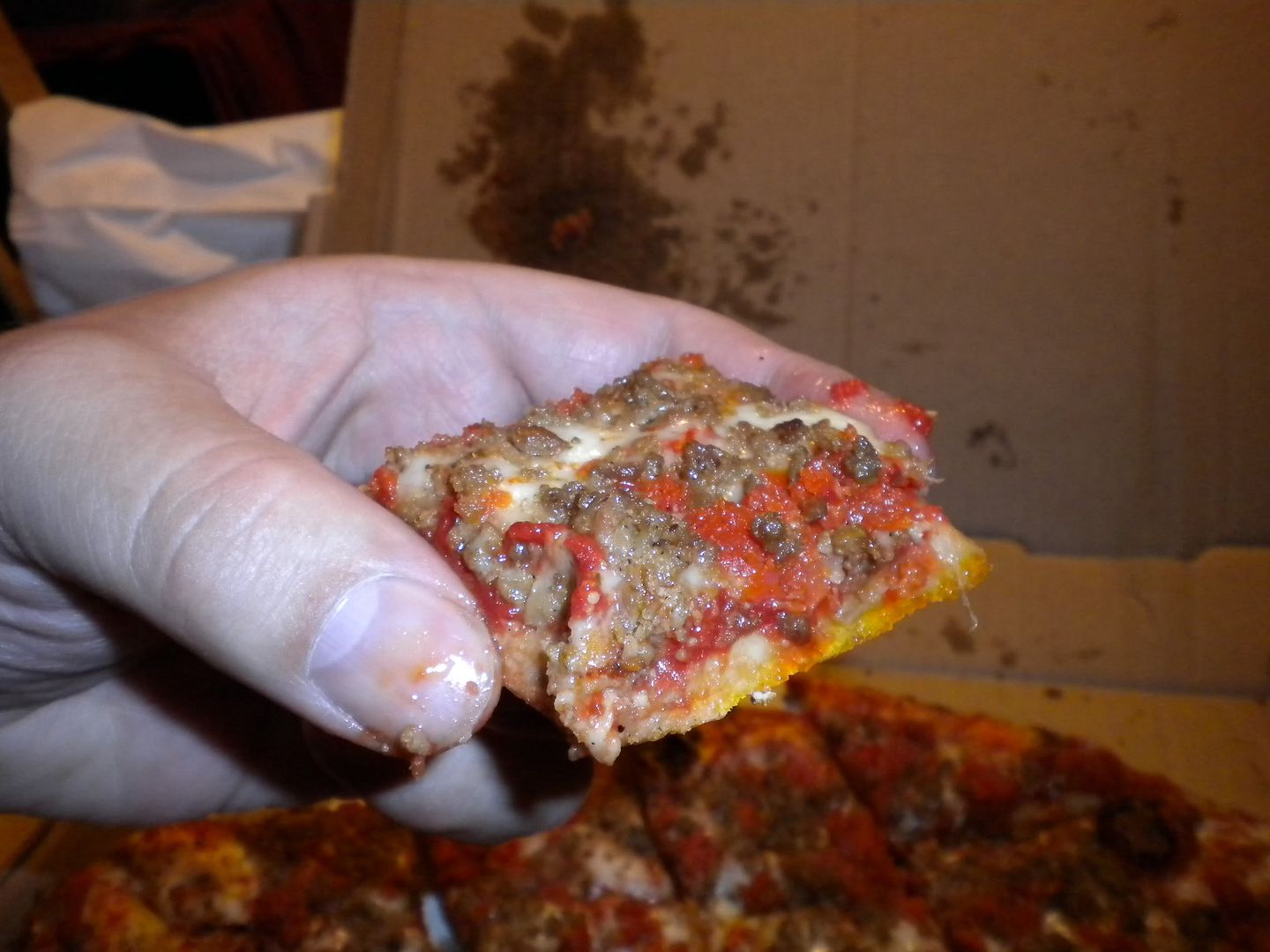 Unique Small Square Pieces
Anyways, on to the review. As mentioned before, Sir Pizza is pretty unique. The outside pieces of the pizza are just as tasty as the inside areas, as there is no traditional crust. The toppings are evenly distributed to the very edge of the pizza. The sauce is very good, tasting natural, and perfectly spiced, it is not overly sweet and is applied lightly. The cheese is flavorful in that they are using smoked provolone instead of mozzarella. I'm surprised more pizza shops don't use different cheeses on their pizzas, as mozzarella itself is a pretty flavorless cheese unless your making your own, or you are using a real Italian buffalo mozzarella. The sausage is the biggest disappointment of the toppings being pretty tasteless. It is not at all spicy and Im not sure what the difference between it, and just plain ground pork would be. The pepperoni is very flavorful, and slightly spicy, and is finely diced and distributed all over the pizza. The crust is very thin and crispy. My eating companion and I agreed that the pizza is very unique and excellent. Do yourself a favor though and dont order the sausage, while not making the pizza any worse, it just does not add anything to it either. The small square slices are great as well. It makes for less sloppy eating, and kids will love them as well.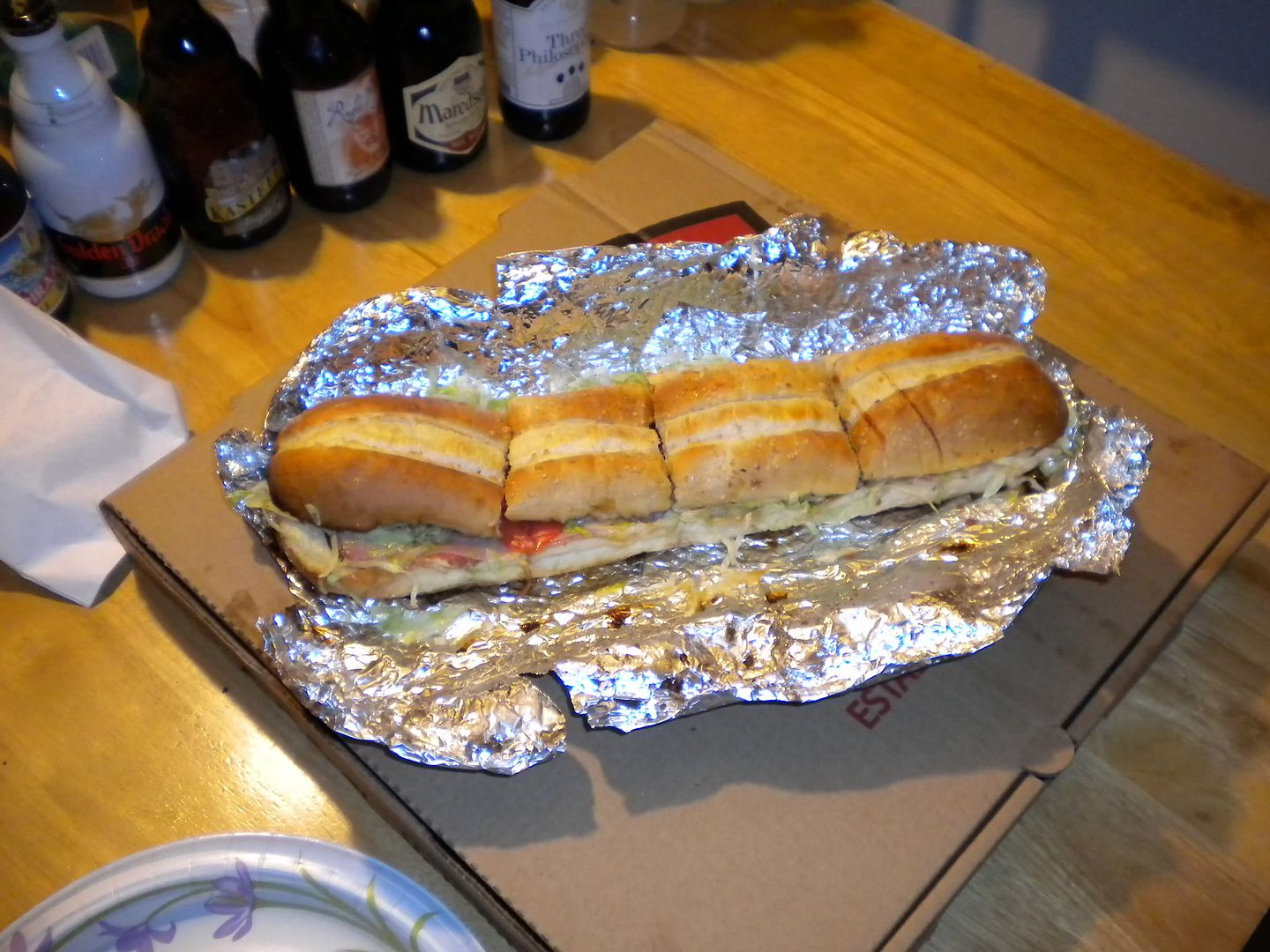 Crusader Hoagie
Top of Crusader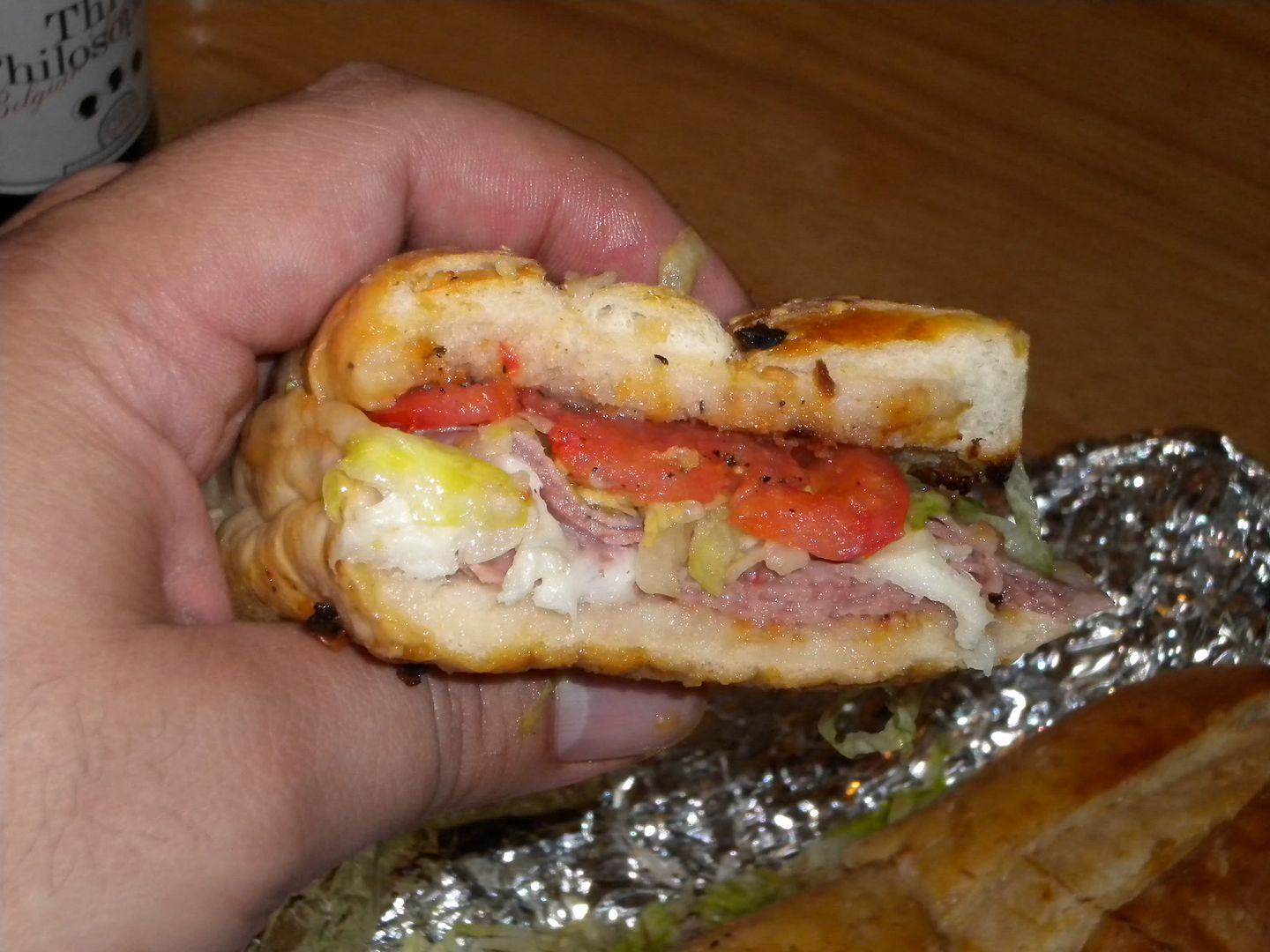 Side profile of the Crusader
While the pizza was excellent and unique, the Crusader Hoagie was plain and uninspired. The Crusader Hoagie is Sir Pizzas take on a traditional Italian hoagie. The Crusader is served on a 12 inch Vienna roll, which is an odd choice. It might be the only hoagie you ever get that has sesame seeds on the bread. In my opinion they should use a good quality Italian bread from one of the many excellent local bakeries in the area, or maybe they have to use the vienna roll, due to franchise restrictions. There is Ham, salami, and capicolla, on the sandwich and the amount is not at all generous. Cheese, onions, lettuce , tomatoes, oil and vinegar finish it off. The sandwich is baked and sliced into 4 pieces. While the hoagie is not bad, it is not really good either. The lack of meat makes it almost like eating a lettuce, cheese and tomato sandwich. There are quite a few other places I would recommend buying an Italian Hogie from (including the earlier reviewed
Jersey Mikes Subs
) before I would recommend Sir Pizza.
Sir Pizza is a great place to get a unique style of pizza not found anywhere else in Pittsburgh. It is a North Hills institution that has been around since 1975. They are obviously doing something right to have stayed open so long when pizza places have about a 6 month average lifespan here in Pittsburgh. While the Crusader Hoagie I found to be mediocre, the pizza was excellent ,and will continue to be one of my top 5 pizza places in the Pittsburgh area.
SIR PIZZA RATING
PIZZA : 8/10
CRUSADER
HOAGIE : 6/10
WARNING: SIR PIZZA DOES NOT DELIVER, ONLY TAKEOUT IS AVAILABLE
SIR PIZZA
Ross Township
320 Sewickley-Oakmont Rd.
Pittsburgh, PA 15237
(412) 367-1333
http://sirpizza-pittsburgh.com/