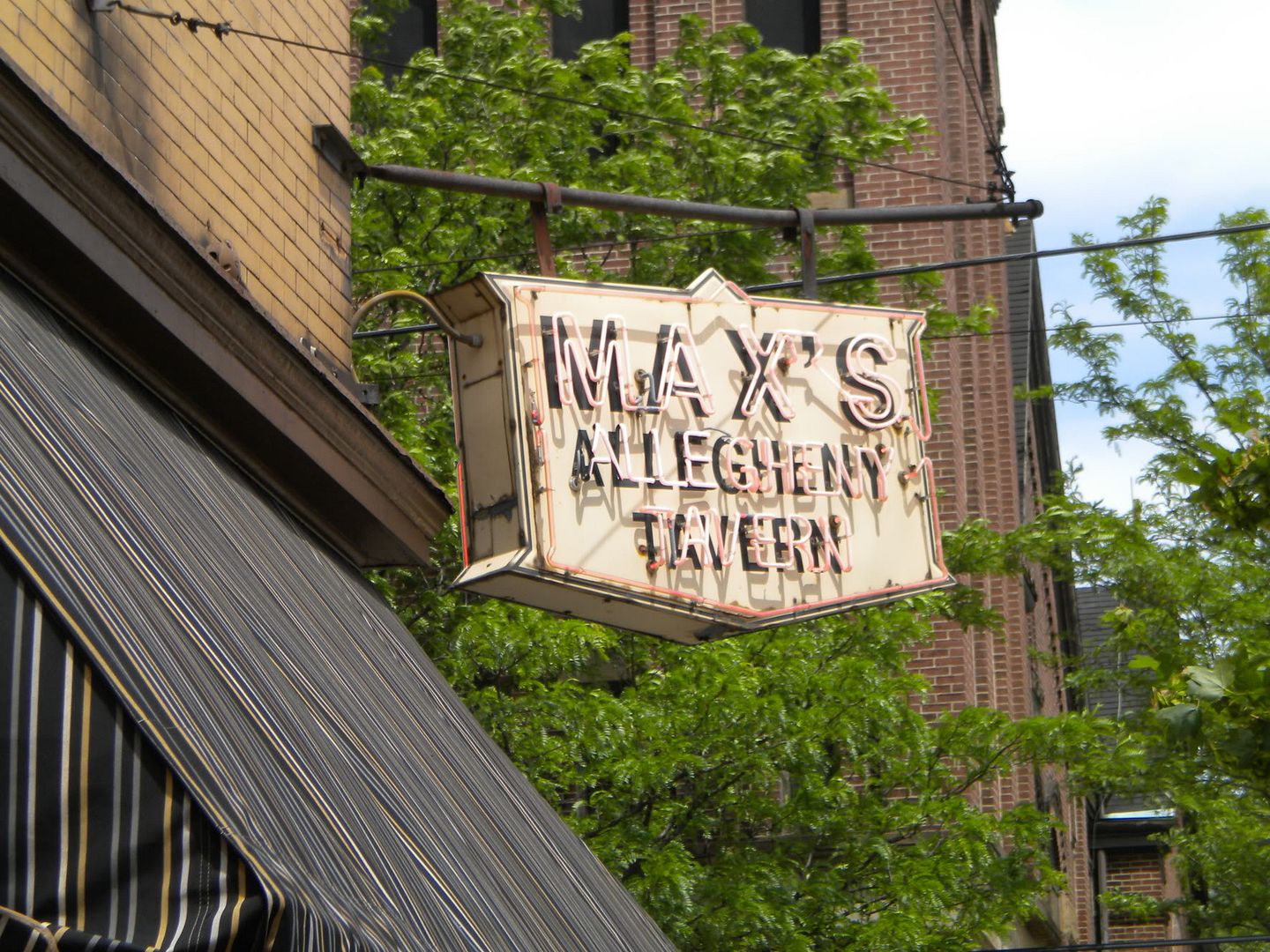 Maxs Allegheny Tavern is located in the North Side of Pittsburgh. Originally called Max and Erma's Allegheny Tavern and opened in 1977, the Erma was dropped after a dispute with a large chain restaurant called Max and Erma's based out of Columbus Ohio. Max's has been known as one of the few restaurants in the area that specializes in German food.Having had some pretty decent meals in the past, my coworkers and I checked it out for Lunch.
You enter Max's into the bar area which has a number of people drinking at all times of the day. The bar area is old looking and dingy, but as soon as you walk into the dining area you are transported back to what I imagine a 19th century dining room would look like. Full of Tiffany glass and pictures from the late 1800's to early 1900's, its elegance and coziness is in direct contrast to the bar area.
We did not really want anything extravagant for lunch so we ordered off the sandwich portion of the menu.
Bratwurst


This sandwich usually comes on Rye bread but was changed to white. The sausage itself is of the highest quality coming from Usinger's Sausages in Milwaukee, Wisconsin. It was prepared properly and had a slight brown crust on its outside. Bratwurst is usually a very mild sausage and this one was no different. Really nothing to complain about with the sandwich itself. The fries however were disappointing in that they were soggy and unseasoned.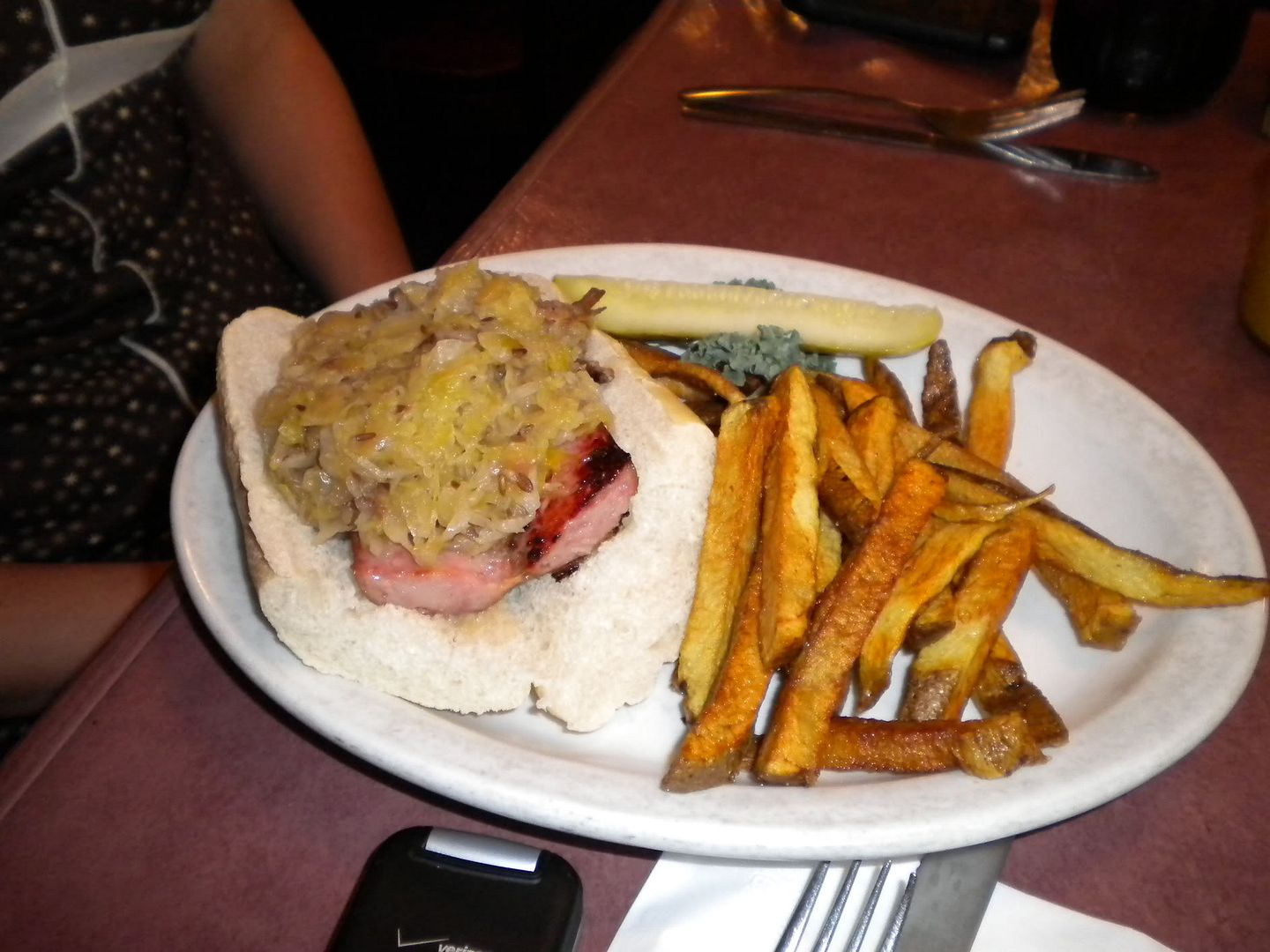 Dutchtown-Style Kielbasa
This also usually comes on rye bread but was changed to white. The kielbasa itself was great having been grilled perfectly. It was juicy and flavored with garlic and spices. This kielbasa I enjoyed more so than the mild bratwurst in that I like the bolder, garlicky flavor.The accompanying sauerkraut was very good. It was not overpoweringly sour and was seasoned with apples and caraway. The fries just as they had came with the bratwurst were soggy and blah..
Grilled Pulled Pork Sandwich


My order was the pulled pork sandwich which was described as pulled pork with grilled onions and cheddar cheese on a hoagie bun. I substituted potato pancakes for the lackluster french fries. The potato pancakes are great. Sometimes potato pancakes are totally lacking in any flavor but these tasted good, with a slight hint of minced onion in them. They came with sour cream. The sandwich was disappointing. The pulled pork had zero flavor and was begging for some seasoning or smokiness. Luckily grilled onions and cheddar go good on almost anything and they rescued this sandwich from total blandness.
In conclusion lunch at Max's was ok. The fries were abysmal. The pork sandwich sucked. Everything else was pretty darn good. The prices are more than reasonable with our total bill coming to less then $24.00 for all three dishes plus drinks. Having been to Max's in the past, I have been impressed with their German dinner dishes such as schnitzel, sauerbraten, and leberkase. In comparison to these, the lunch was a slight disappointment. In the future expect to see a review of some of their dinner specialties.
Max's Allegheny Tavern
Bratwurst: 7/10
Dutchtown-style kielbasa: 8/10
Pulled Pork Sandwich: 4/10
Potato Pancakes: 8/10
French Fries: 3/10
OVERALL: 6/10