For Mothers Day being the awesome son that I am, I decided it would be nice to get Outback Steakhouse curbside takeout for my Mother. She just wanted to stay home and relax, so I thought this was a great way to bring the restaurant to her.
If you never heard of Outback you live under a rock. They have over 1200 restaurants around the world and are by far the most successful steakhouse chain in the world. Having been there many times in the past I have found their steaks to be mediocre but the sides and appetizers to be excellent.
My order was placed online and I scheduled to pick up the food at 4:00 PM. As I pulled up to the restaurant there was a line out the door and all the parking spots for curbside takeout were taken. So I parked where I could be seen and an Outback employee came over and took my money and came back about 10 minutes later with my bag of food.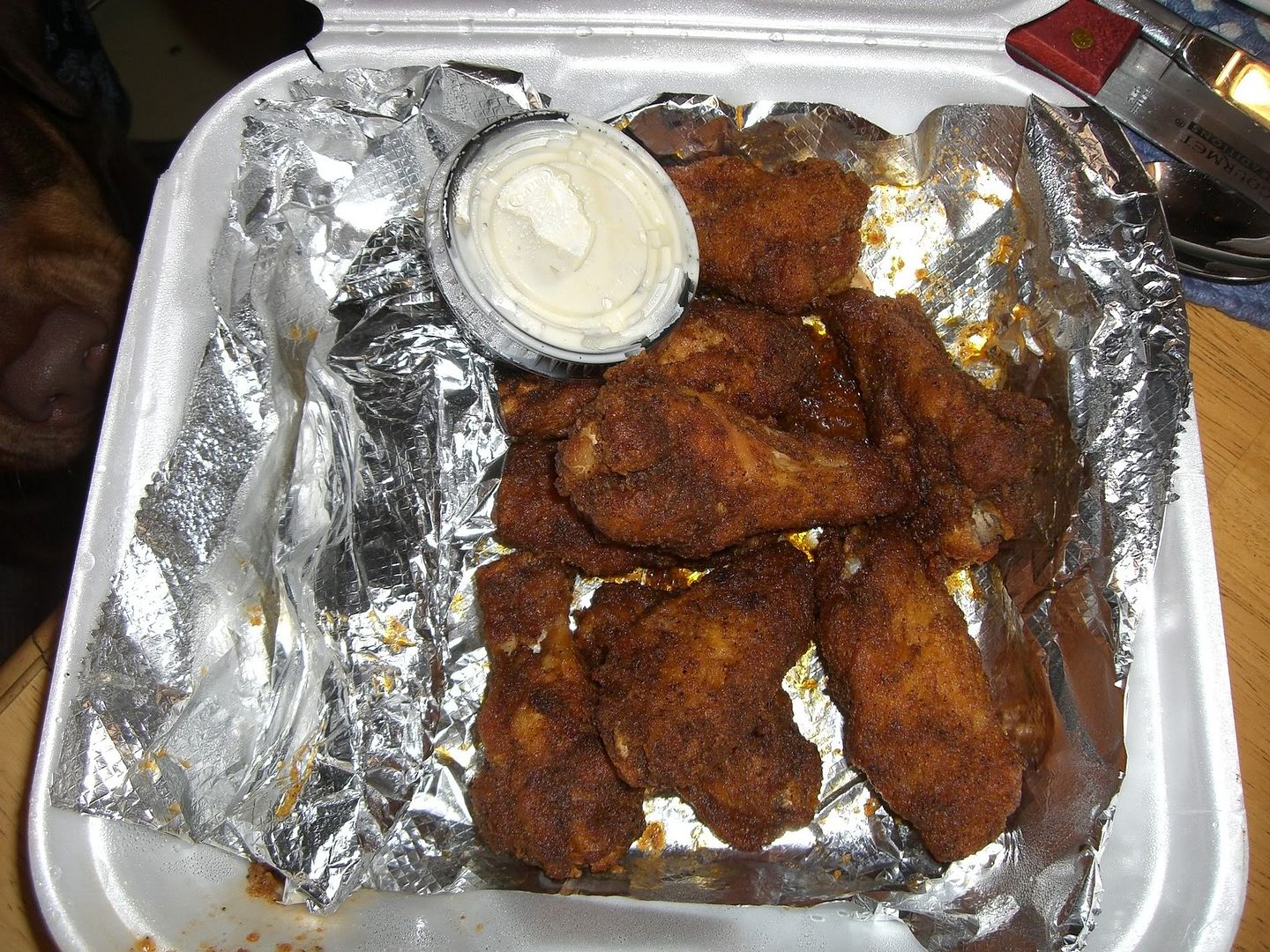 Kookaburra Wings $8.49
First off were the Kookaburra Wings. These wings were not your typical Buffalo style wings. They have a seasoned coating around them with tastes of chili powder, black pepper, garlic and clove. The wings then are coated in either mild,medium, or hot wing sauce. These wings were medium but I found them to have almost no heat whatsoever. The sauce did have a nice tang and adhered nicely to the coating on the wings. The accompanying blue cheese dressing was unremarkable and not really used as I did not want to mask the flavor of these excellent tasting wings. This honestly was the hi point of the meal. The wings flavor is quite unique and my only complaint could be that the wings were slightly on the small side.
Caeser Salad (accompanies meal)


The Caesar Salad screams of one thing, GARLIC. The dressing is almost overpowering in the amount of garlic it has in it. The croutons are almost like little pieces of garlic bread. That being said I love this salad because I love garlic. If your not a big fan of garlic do not even bother with this salad.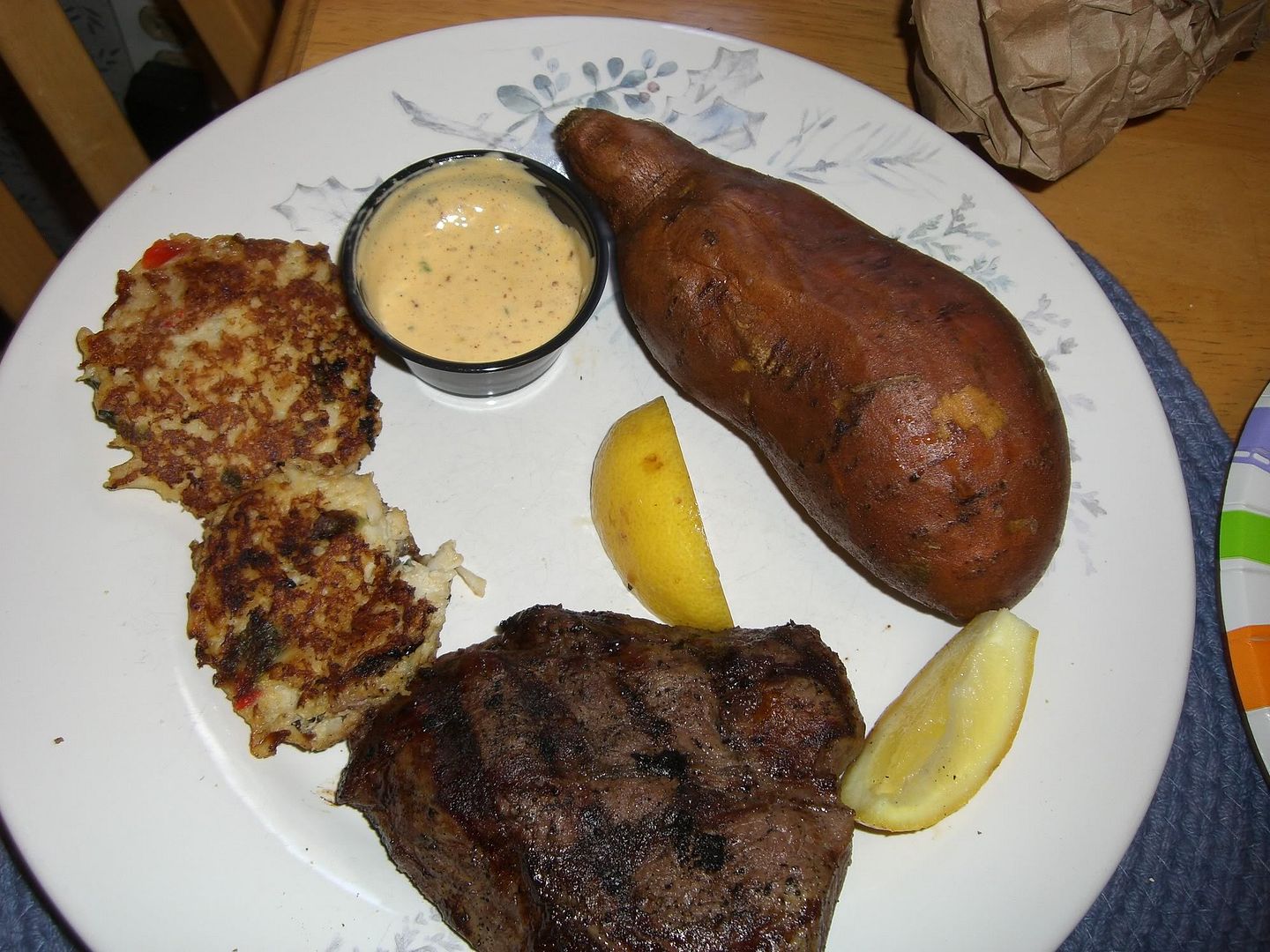 9oz Outback Special and Crab Cakes $16.99
This was my Mothers entree which I also sampled (for review purposes and stuff). The 9 Oz sirloin was decent. You now have the option of getting your steaks cooked in one of two ways. The classic Seasoned & Seared: Our classic bold style, seasoned & seared on a red hot grill, or Wood-Fire Grilled: Our new style, lightly seasoned & flame grilled over oak wood. This steak was cooked over the oak wood and had a nice outdoor bbq flavor to it. The sirloin had a bold beef flavor and was slightly chewy, typical of a sirloin cut. The crab cakes were disappointing. They were so damn small, that two bites and they were done. Their was no lump crab meat to speak of and they were mostly made up of cheap shredded crab and filler. The accompanying remoulade sauce however was excellent. If you dont know what a remoulade sauce is, it's a New Orleans version of tartar Sauce with mayo, mustard, hot sauce, pickles and spices. This remoulade was perfectly spiced and made the crab cakes bearable. The meal also came with a baked sweet potato with brown sugar infused cinnamon butter. Not being a fan of sweet potatoes I did not try it, but my mother ate it all and seemed quite happy with it.
Filet Focaccia Sandwich $9.99


With this sandwich I also ordered a side of grilled shrimp. The shrimp were seasoned with the same type of seasoning that was on the wings as well as being basted in garlic butter. They were accompanied with Outbacks excellent remoulade sauce. The shrimp were outstanding and I could eat a hundred of them. They were quite small however and for $5.69 were not a bargain. The sandwich was focaccia bread with slices of filet mignon and melted provolone cheese. It also came with a side of herbed aioli to spread on it and a side of au-jus for dipping. The meat was not beefy or flavorful which is common with a fillet. The aioli was lacking in herb and garlic flavor and wound up being more of a thin mayonnaise. The au-jus was ice cold. While all of the components for this sandwich sounded great, it turned out quite mediocre in Outback's execution of the sandwich. The accompanying fries were flavorful yet soggy (to be expected since it was take out).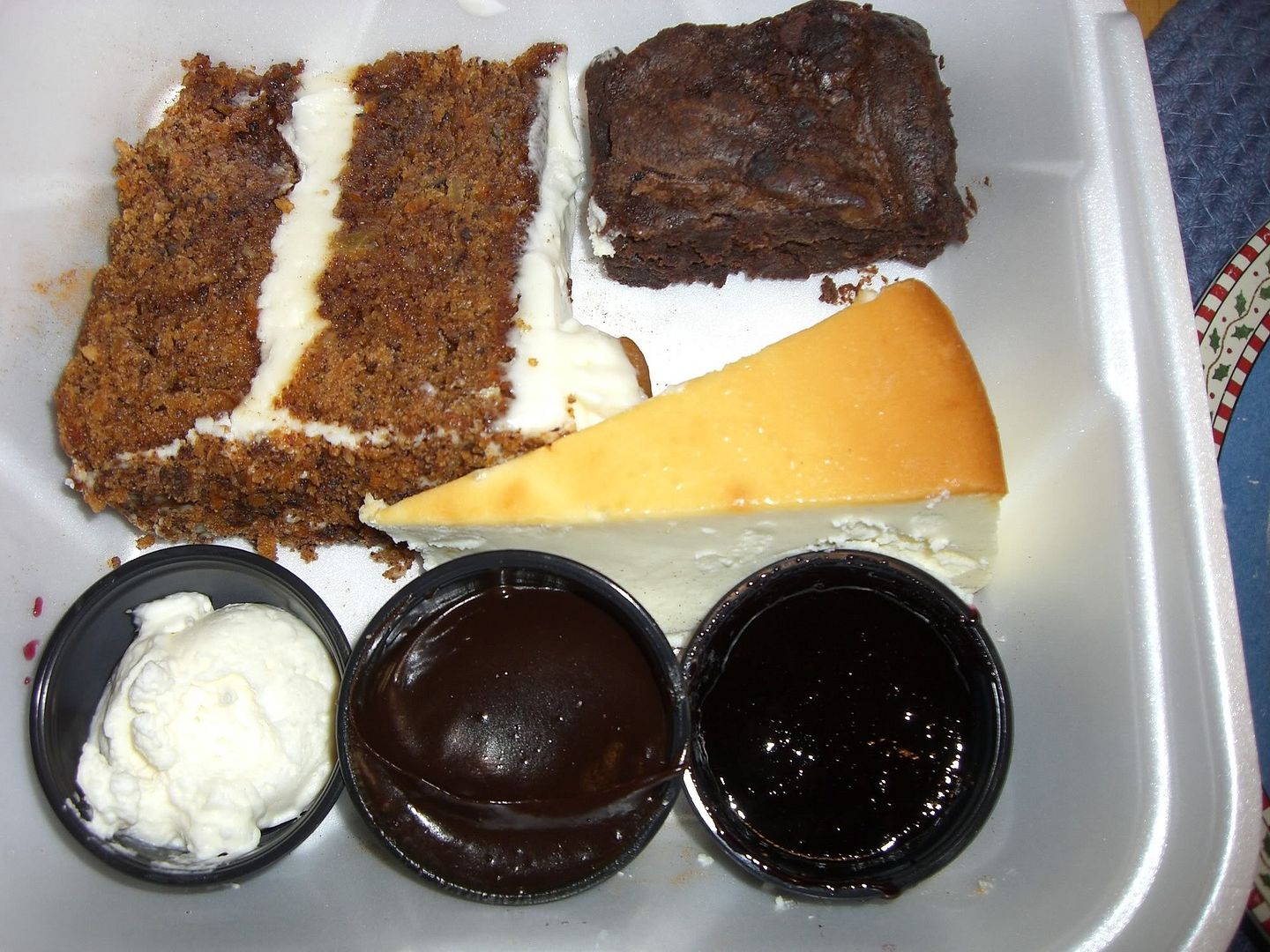 Sweet Adventure Sample Trio $8.28
The dessert entailed samples of 3 different desserts. Thunder from Down Under Chocolate Brownie, Carrot Cake with coconut and pecans, and Classic Cheesecake. It also was accompanied by a small scoop of vanilla ice cream(for the brownie), whipped cream, chocolate fudge sauce, and a raspberry sauce. All the desserts were pretty good with the stand out being the cheesecake, which was very good with the raspberry sauce drizzled on it.
So all in all my experience with Outback curbside takeout was pretty average. Not great, but not bad either. I would order from Outback again. The Kookaburra wings are worth getting alone.
Rating
Kookaburra Wings: 8/10
Caesar Salad: 7/10
9 Oz Outback Special with Crabcakes: 6/10
Fillet Focaccia Sandwich: 5/10
Grilled Shrimp: 7/10
Sweet Adventure Samplers Trio: 7/10
OVERALL: 6.5/10
Pittsburgh - North Hills
(412) 635-5255
9395 McKnight Rd., Pittsburgh, PA 15237