Southside Steaks has become quite the popular location for Southside drunkards to fill their bellies after a night of boozing and partying. But how does it hold up when your sober, are they authentic Philly style? Lets find out shall we.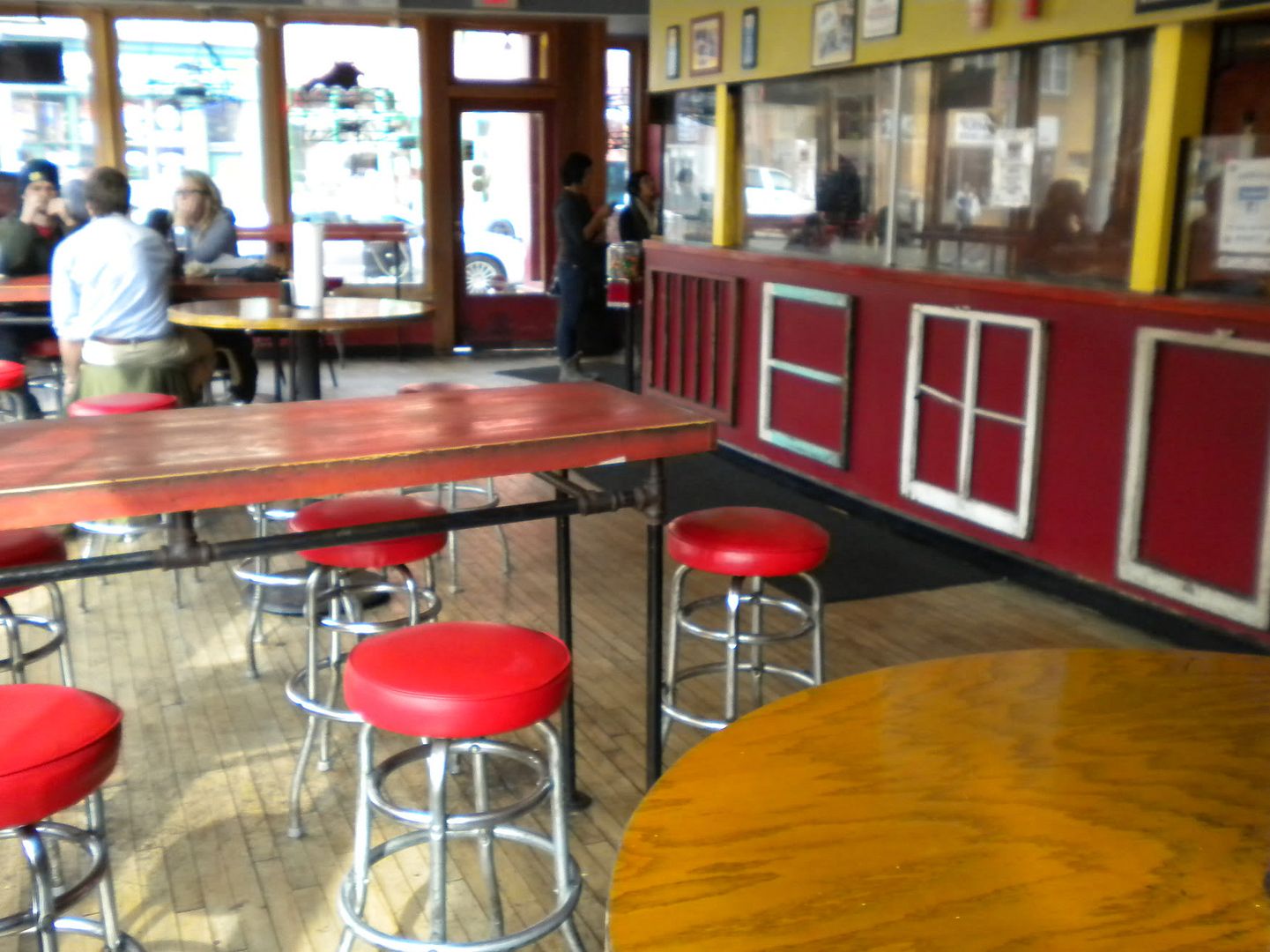 My first impressions were that the place is a real dive as I walked through the doors(not necessarily a bad thing). Its has a dingy, unkempt vibe to it. You place your order with the cashier as soon as you walk in. You then pick up your food after it is cooked, at a pick up station further down the line.
Pick Up window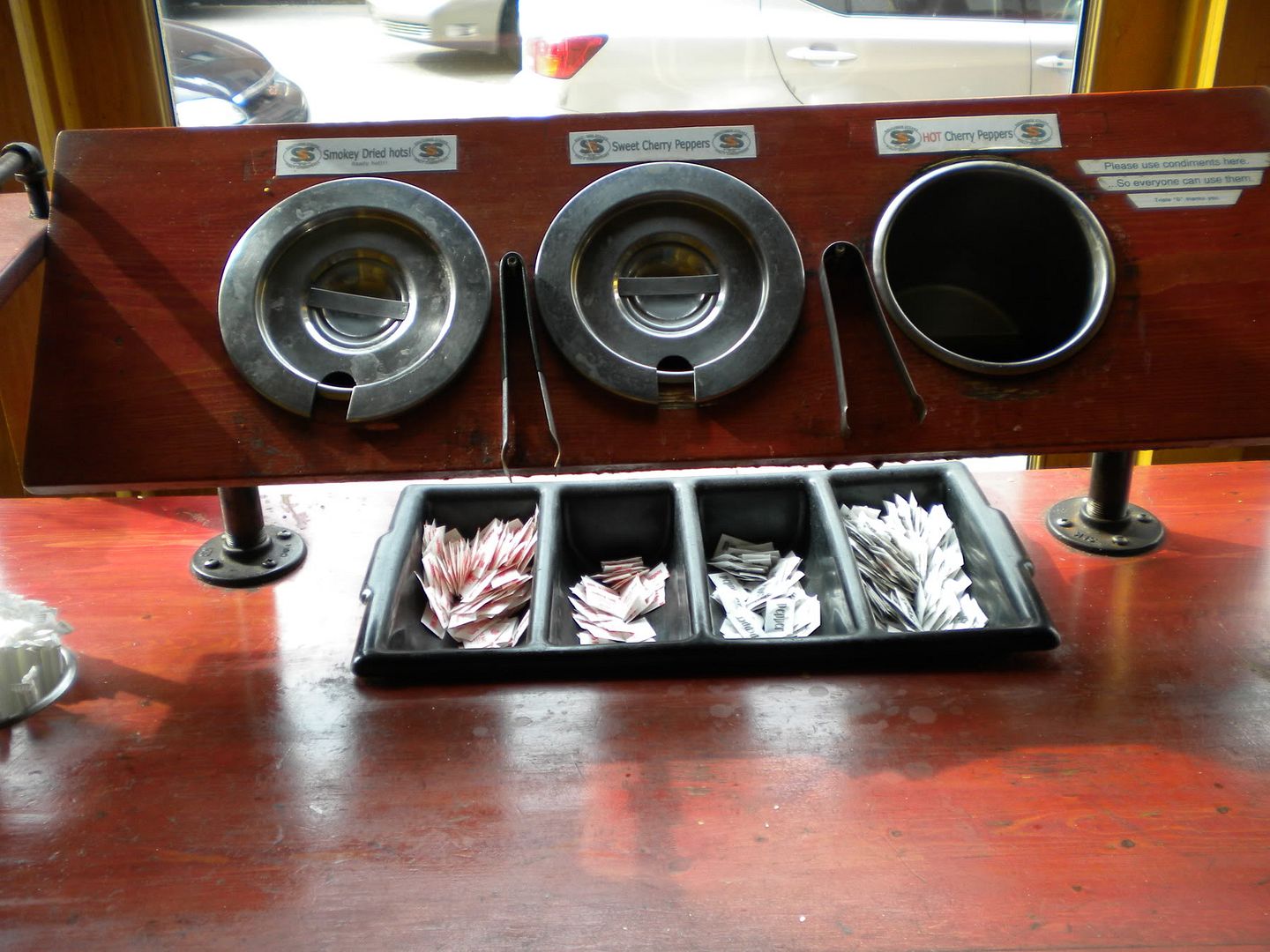 In the corner of the restaurant is a pepper bar that looked like like it had not received attention in a while. You can get sweet cherry peppers, hot cherry peppers, and smokey dried peppers. If the peppers didn't look like they were put there a couple years ago, I might have tried some of them.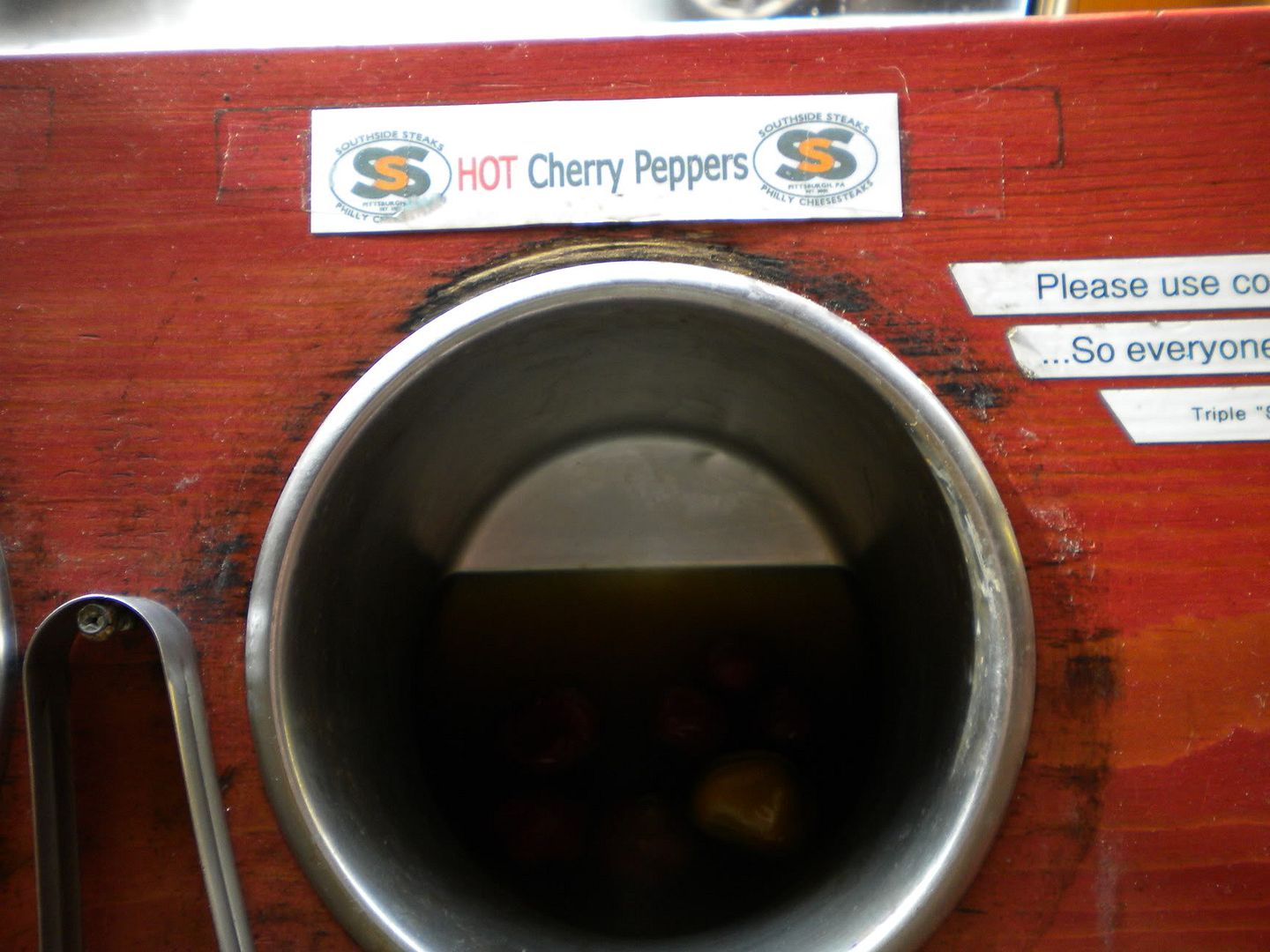 I dont think so
Their is also some challenge to eat three "Inferno" cheesesteaks in 25 minutes. Being that I only saw one picture of a person that completed the challenge , I gather that its either very difficult, or Southside drunks have more intelligence then I thought.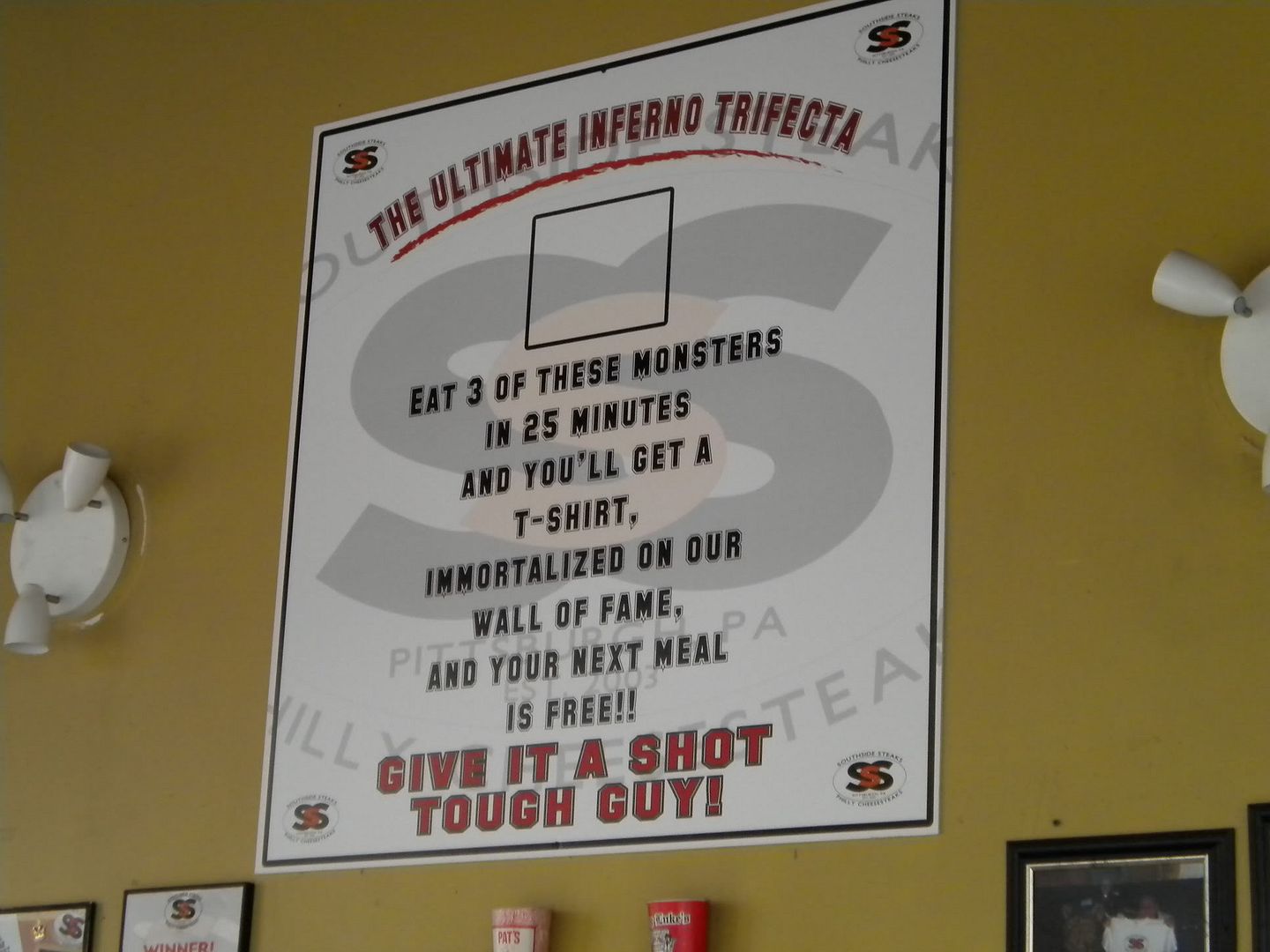 Just waiting for their Man Vs Food moment
At the cashier, where their was no line, I ordered an authentic style Philly cheesesteak with Cheeze Wiz and onions, and a "Gyro" steak. Then I waited down by the pickup window for about 10 minutes before my food was ready. A lot of people came in after me and the line does not seem to move all that quick when their is a crowd. Any hoot, lets get to the important part, how did the sandwiches taste.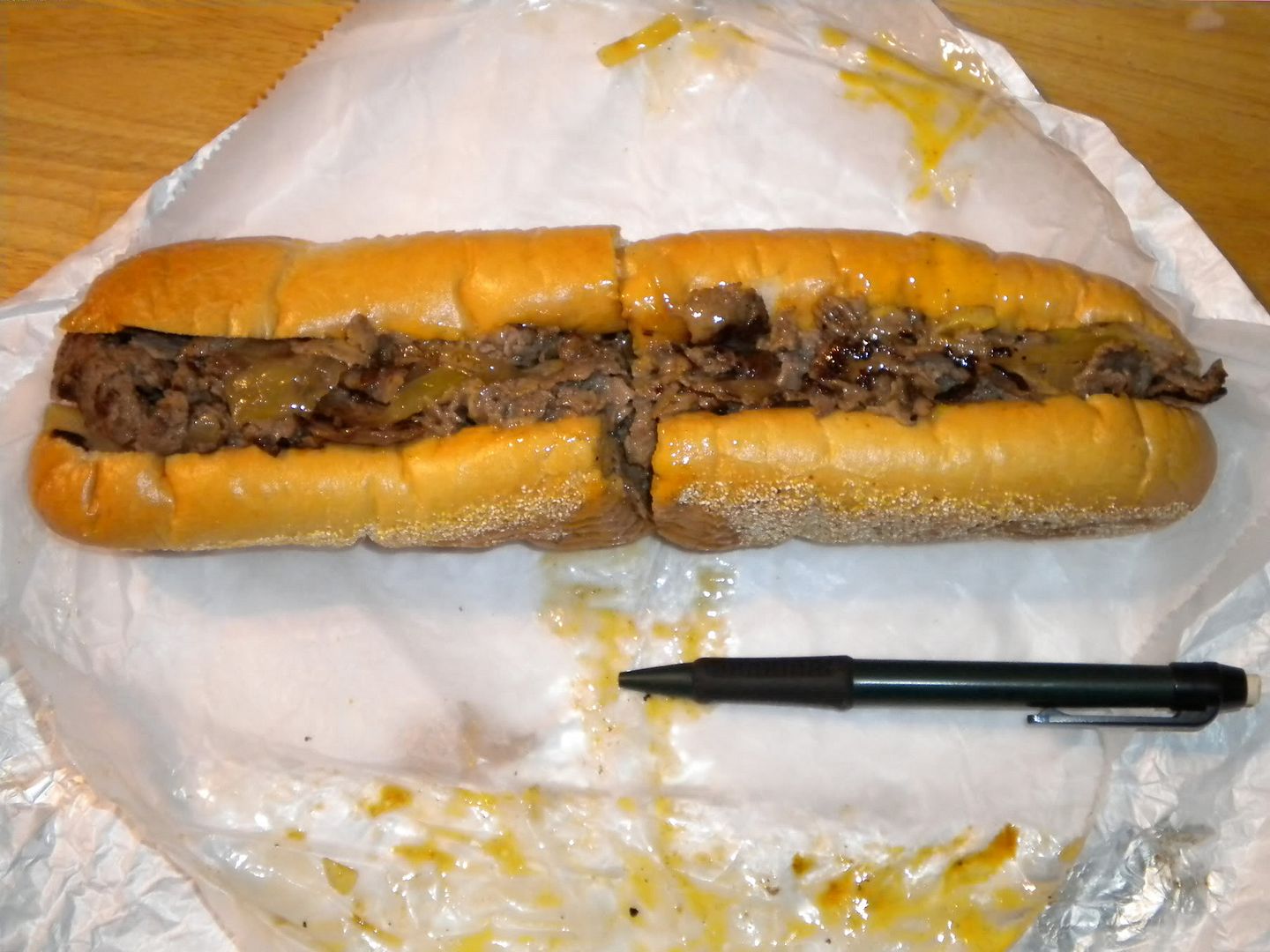 Original Steak wit WIZ and Onions $6.55
The original steak was a pretty decent size, and using a ruler (and not my genitalia), it measured in right around 10 inches. The rolls that Southside Steaks use are supposed to be from the famous Amoroso bakery in Philadelphia that supply a lot of the cheesesteak joints in Philly with their bread. This was not an Amoroso roll. Amoroso rolls have a bit of crust on the outside of them, and a little bit of chew on the inside. This roll had neither, being more akin to an over-sized, corn dusted hot dog bun. The Cheese Wiz mixed in with the juice from the steak and made its own, almost heavenly tasting sauce. The onions were sauteed nicely and mixed in well with the steak. The steak itself was sliced paper thin, was of a generous quantity, and nicely seasoned. If not for the sub-standard roll this could have been one of the best cheesesteaks I have ever eaten.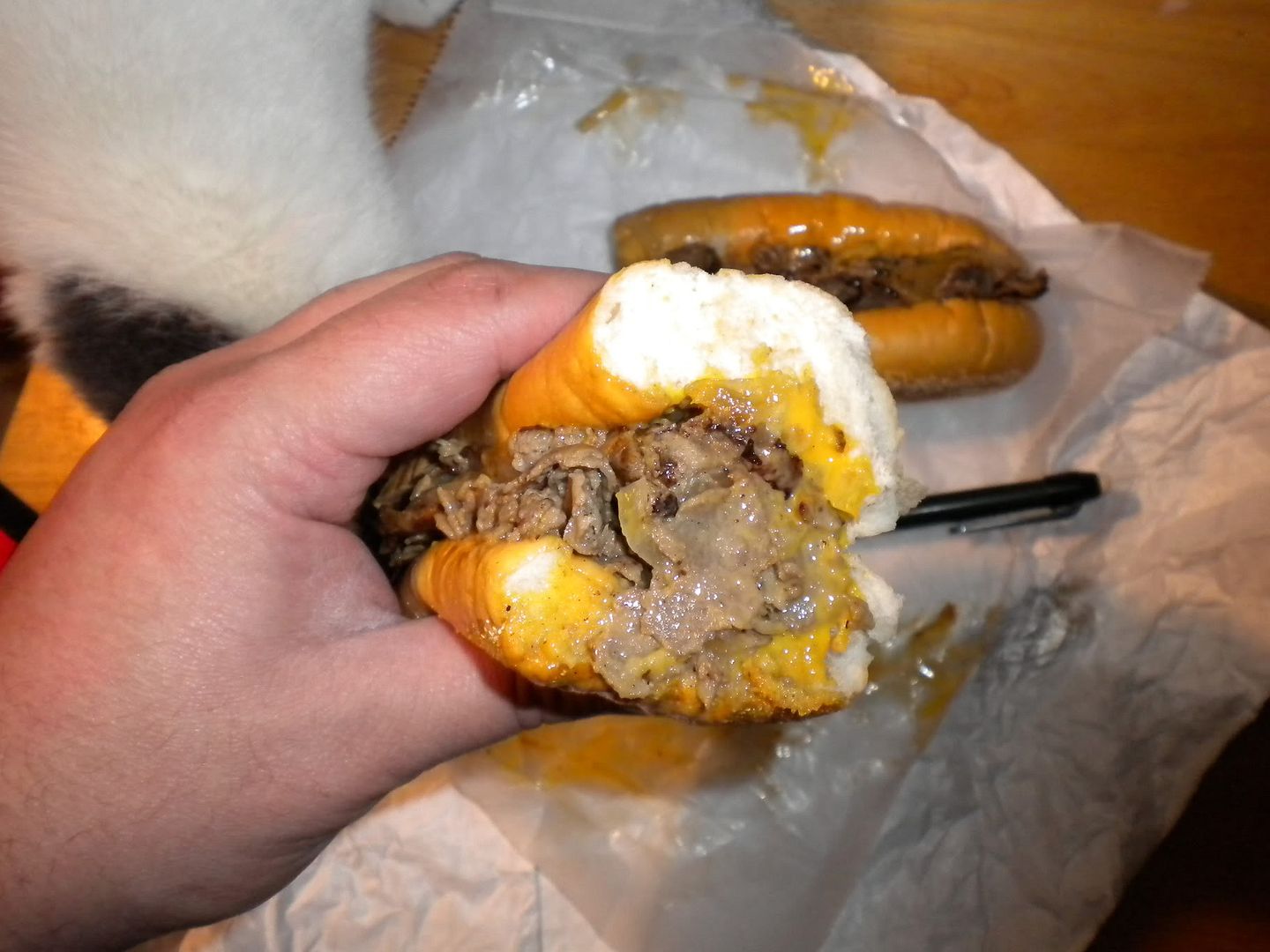 Look out arteries, here it comes
So despite the substandard roll, this cheesesteak was pretty damn good. At only 6.55 it is a bargain as well. You dont have to have your steak made the authentic Philly way either. You can get your cheesesteak with provolone, American, or pepper jack cheese if you so choose. Onions are optional as well. If you want to kill yourself right then and there, you can add bacon to any cheesesteak for a $1.00.
The "Gyro" Steak $6.55


Southside Steaks also has a large number of specialty sandwiches including "chicken" steaks, and others such as the gyro steak. This sandwich came with everything you would find on your typical gyro. Lettuce, tomato, tzatziki sauce, and gyro meat. The meat was in nice chunks, and seasoned in the typical fashion that you would find in many gyro shops, with lots of oregano and garlic mixed into the meat. The tzatziki sauce had a nice bite to it and balanced well with the meat. The bun got pretty soggy from all the grease/juice coming from the gyro meat. What it comes down to is that this tasted like a decent gyro on a bun. With the best Gyros in Pittsburgh just down the street at
Mike and Tonys

,
their really is no reason to get this sandwich if your down on the Southside, unless your just to intoxicated to walk the few extra blocks.
Gyro on a bun


So my visit to Southside Steaks went pretty good. The cheesesteaks are pretty tasty, and I would stack them up against almost any other cheesesteak in the Burgh. The only thing holding these cheesesteaks back from true greatness is the sub-standard roll that they use. The prices are also good for the quantity you receive. This place will definitely be on my list of places to go after a future night of drinking and debauchery on the Southside.
RATING
Original Steak: 7/10
"Gyro" Steak: 6/10
MENU
Southside Steaks
2000 East Carson Street
Pittsburgh, PA
(412) 390-1844

‎
Sun 12pm-11pm