Brgr bar is just one of many new high end burger restaurants opening up in the Pittsburgh area. Brgr is located in East Liberty, home to hipsters and many of the better restaurants in Pittsburgh. Word of mouth had gotten to me that Brgr serves gourmet style hamburgers and "spiked" shakes, so this was a must try destination.
Two companions and I traveled to "Sliberty" on a Sunday to go to Brgr. We arrived at about 2:45 PM and were quickly seated . The server was pleasant yet seemed a little overextended in the amount of tables she had to wait on.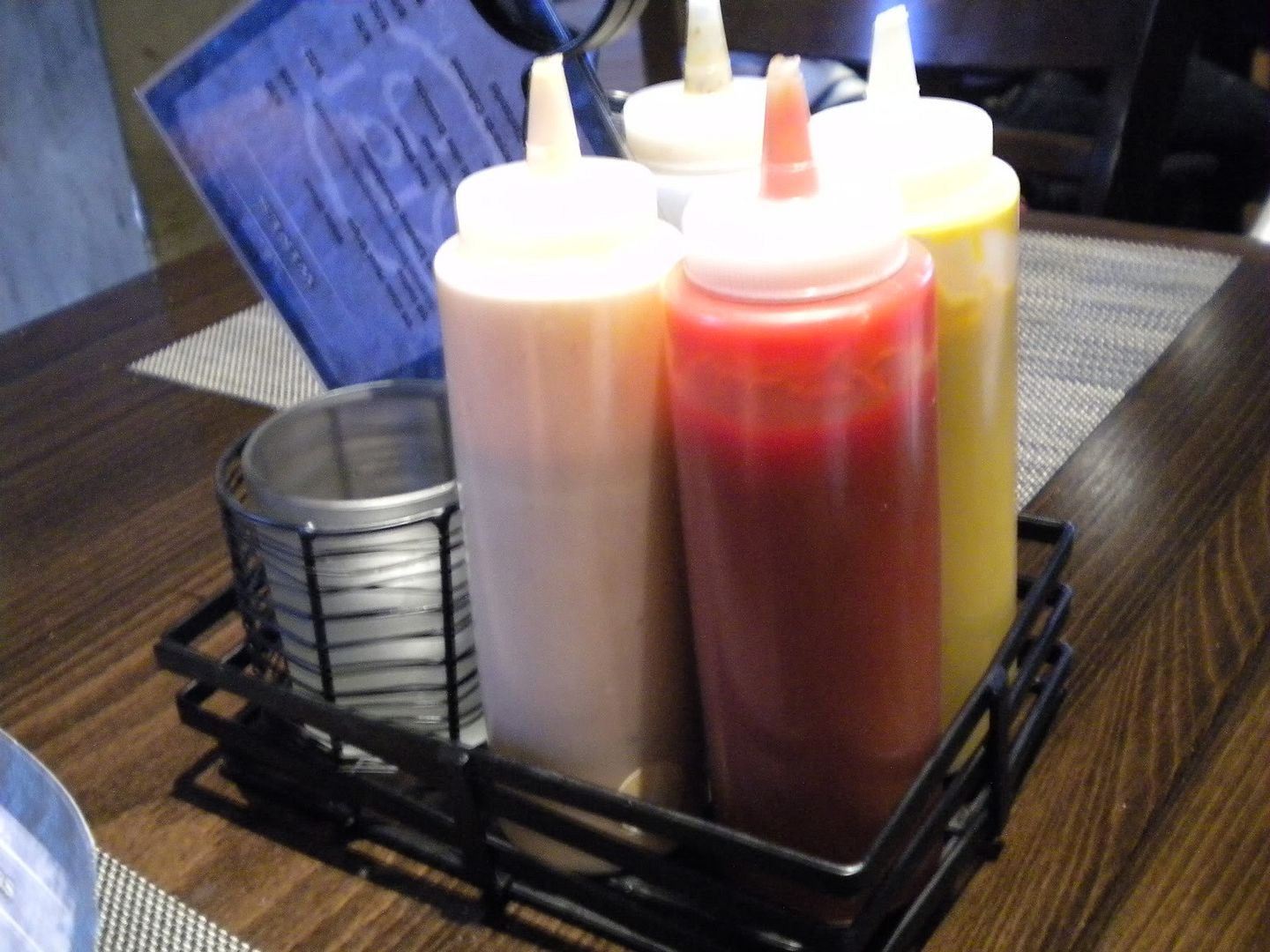 Condiments
At the table was a basket of condiments including ketchup, yellow mustard, house made mustard which looked like a course ground style brown mustard, and hamburger sauce. The hamburger sauce was fantastic, tasting slightly like Big Mac sauce but in a finer consistency.
To start our order, we ordered 2 spiked shakes a beer, and an order of french fries with truffled cheese whiz.
Cupajoe $8.00
One shake was a Cupajoe, with Irish Whisky, espresso, and dark chocolate ice cream. It was thick and tasted great. They give you a wide ass straw so you wont struggle to suck up the shake. All the flavors mixed great together and it was definitely the better of the two shakes.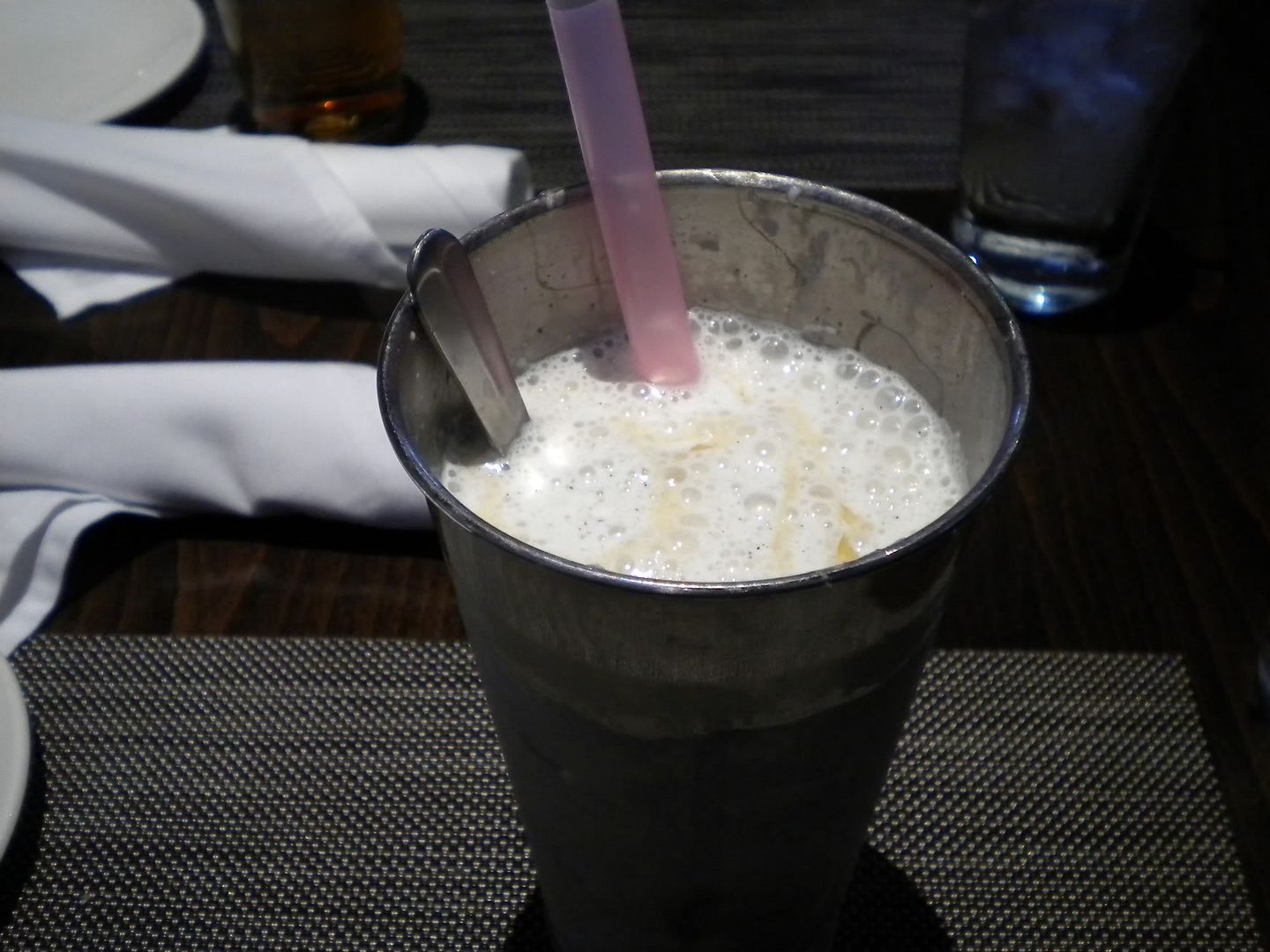 Salty Caramel $8.00
The other shake was a Salty Caramel. Its ingredients included bourbon, sea salt caramel sauce, and vanilla ice cream. It was good with the bourbon adding a complexity of taste usually not found in your typical shake. It could have used a little more caramel, as the salty sweet caramel flavor was lacking. It tasted like a vanilla milk shake with whiskey. It was good but could have been a little better. By the way, they use local ice cream maker Dave and Andys for their ice cream.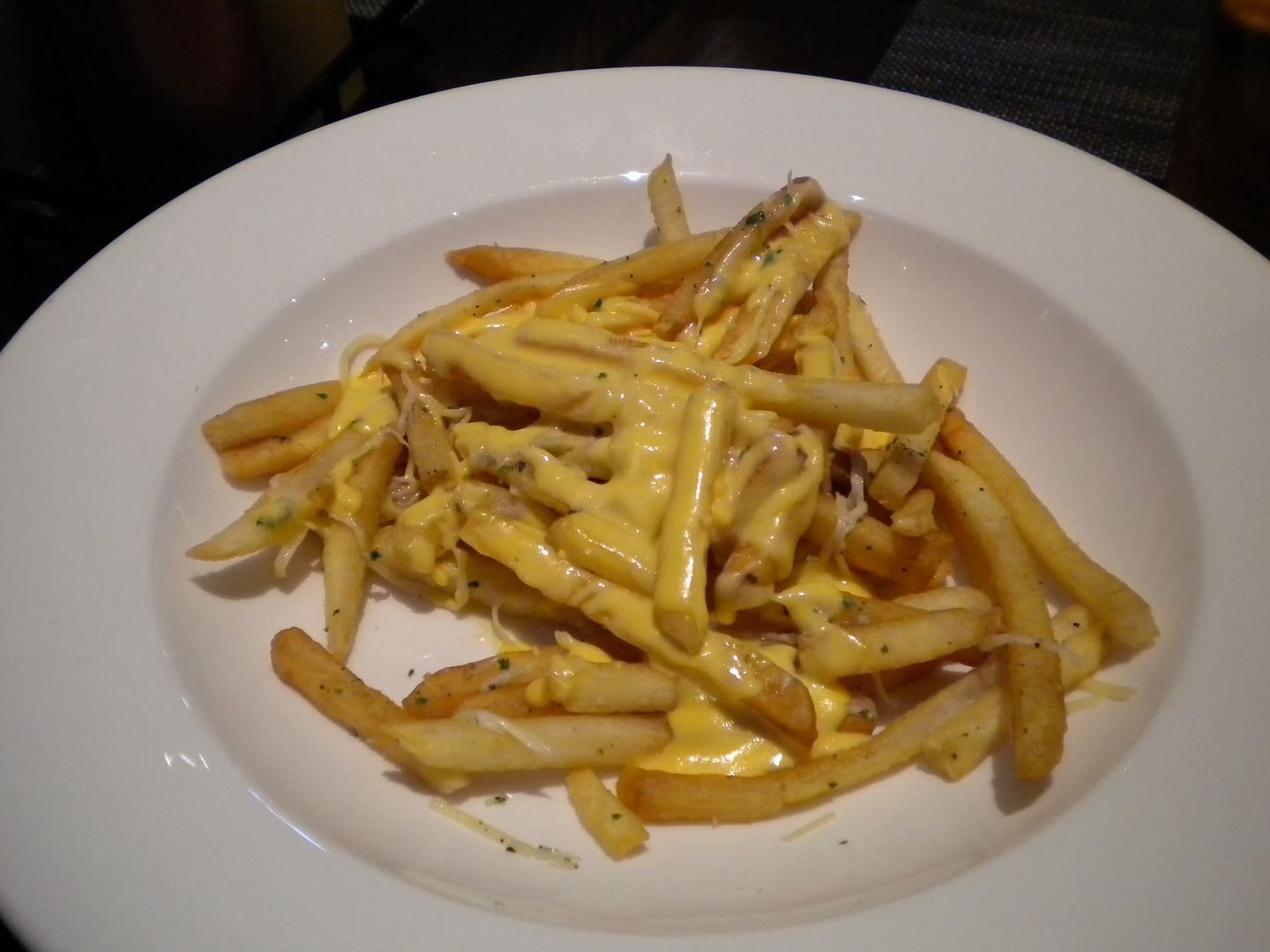 Brgr Fries tossed in parmesan and herbs with truffle cheese whiz $5.00
Let me tell you right off the bat that I am a white truffle slut. You can do no wrong in my opinion adding white truffles to pretty much anything. The fries were crispy and would have been good by themselves with just the parmesan and herbs coating them. The addition of truffle cheese whiz however takes them up to a new level. The whiz was obviously infused with white truffle oil, and the earthy/garlicky flavors of the white truffle matched well with the cheese whiz. These fries were some of the best I have ever had.
Next we ordered our burgers.
Our server said that all the burgers are 6oz. The brioche buns for all the burgers were good in that they were nicely toasted, had a nice outer crust and were light and airy in the middle. They were sturdy enough though that your bun did not turn into mush from the juices and toppings.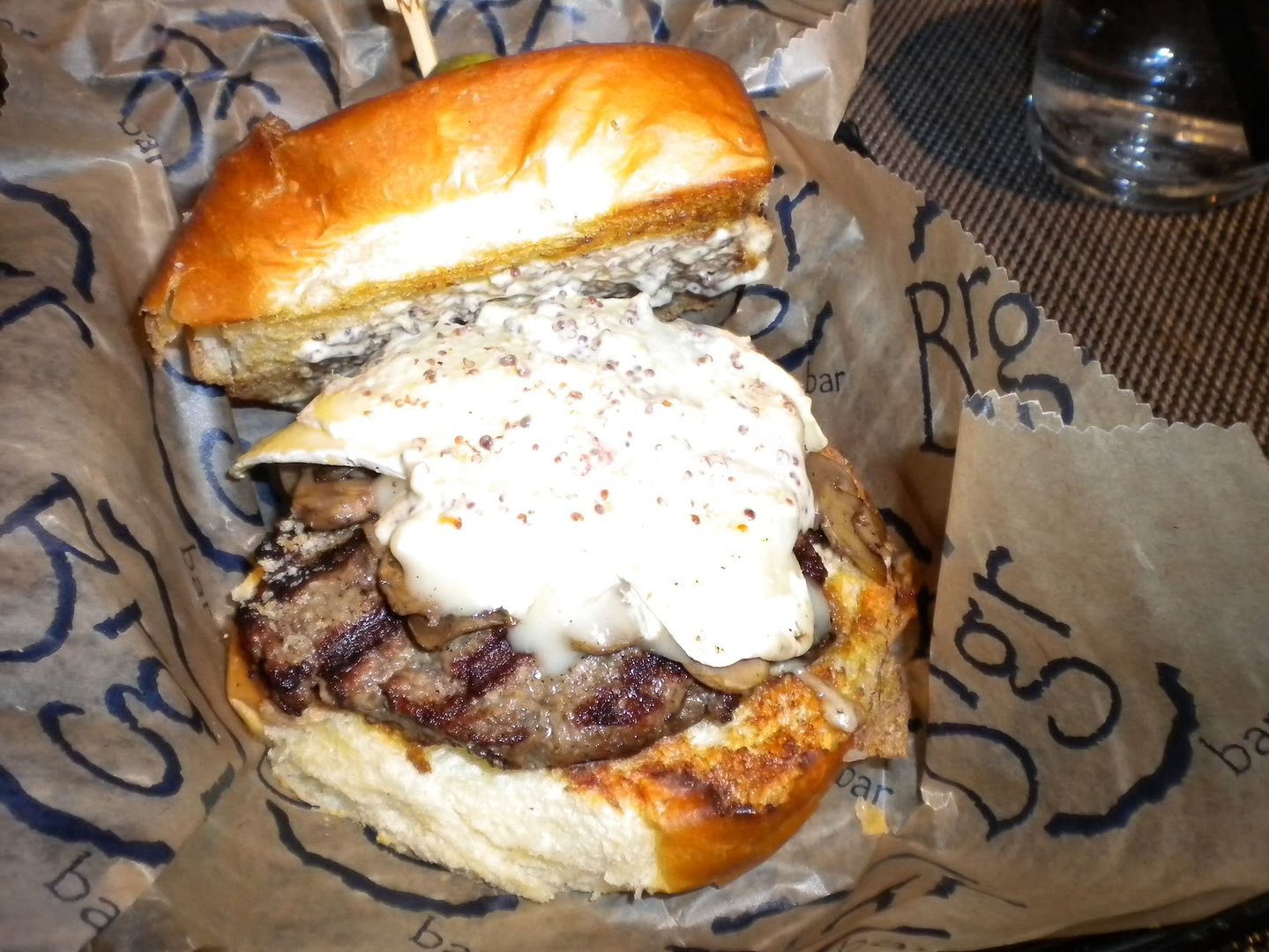 Shroomz Burger $9.00: Forest Mushrooms, Carmelized Onions,Brie Cheese, Mustard Aioli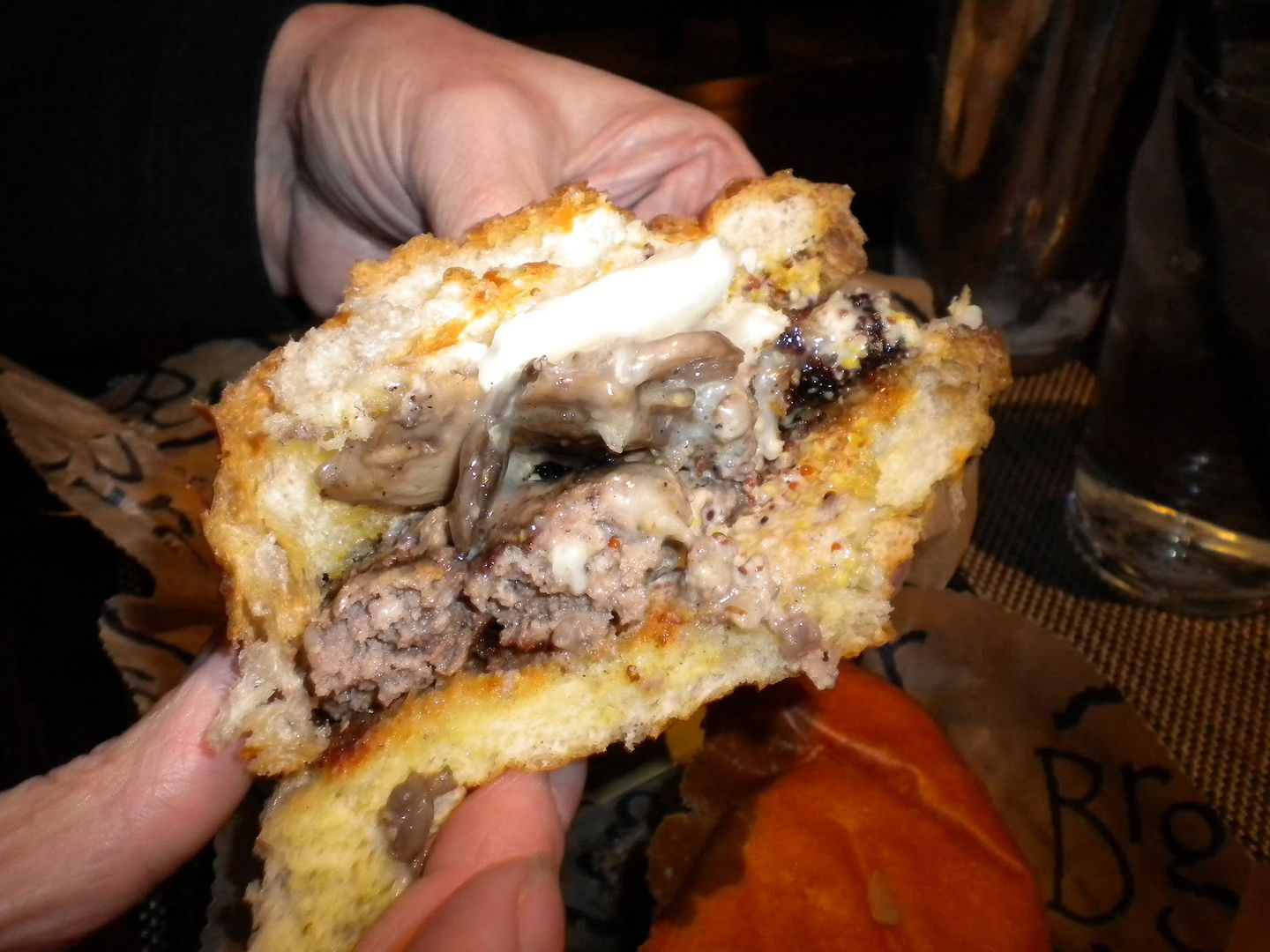 Shroomz
The Shroomz burger was excellent. The actual hamburger meat on all the burgers was very meaty tasting, and you can tell they take pride in their hamburger mixture. According to the menu, the hamburger meat is a mix of sirloin, ny strip, and ribeye.The patties are charbroiled, not fried (which is fine,just different flavor profiles). The mushrooms and onions on the Shroomz burger were sauteed perfectly.
The mustard aioli had a nice garlicky/mustard bite to it. The brie was not my favorite. The rind of the brie with its musty flavor tended to overpower the other flavors on the burger. If I ordered this burger again, I would request swiss or some cheese with a slightly less pungent outer crust.
Button Buster $10.00: Braised Beef Short Ribs, White Cheddar Cheese, Bearnaise Aioli, Crispy Onions



Butt Guster
The Button Buster (or Butt Guster as I referred to it) was my favorite burger out of the bunch. I was curious as to how they would put short ribs on a burger, and the ribs just wound up being a minimal amount of short rib trimmings being placed on top of the burger.
This combination of toppings really worked. The cheddar had a nice sharpness to it, while the Bearnaise Aioli with its notes of tarragon and garlic made a nice sauce. The short ribs dis not add much flavor, however adding meat on top of meat cant be all that bad.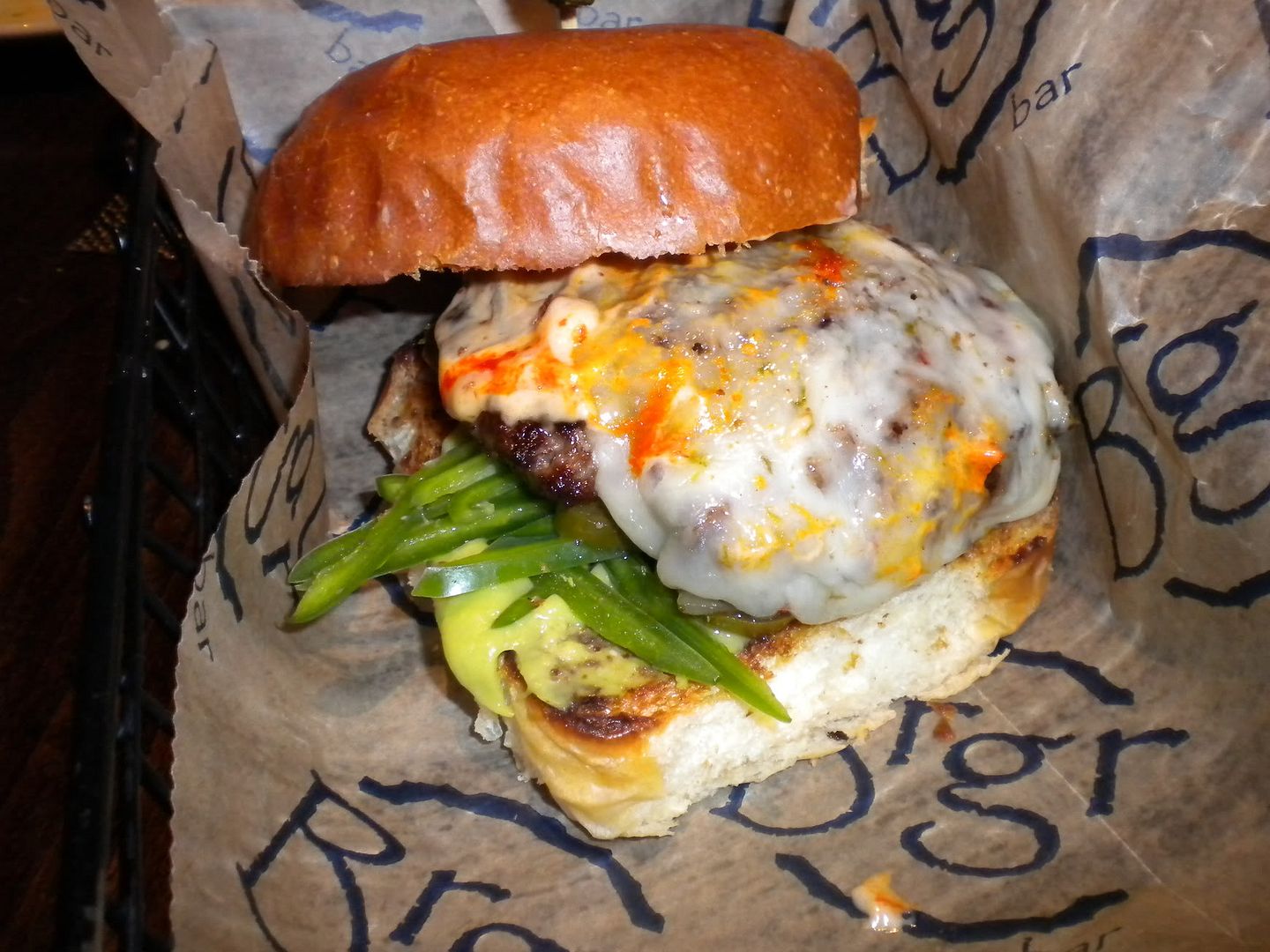 Fire in the Hole $9.00: Guacamole, Jalapenos, Pepper Jack Cheese, Chipotle Mayo.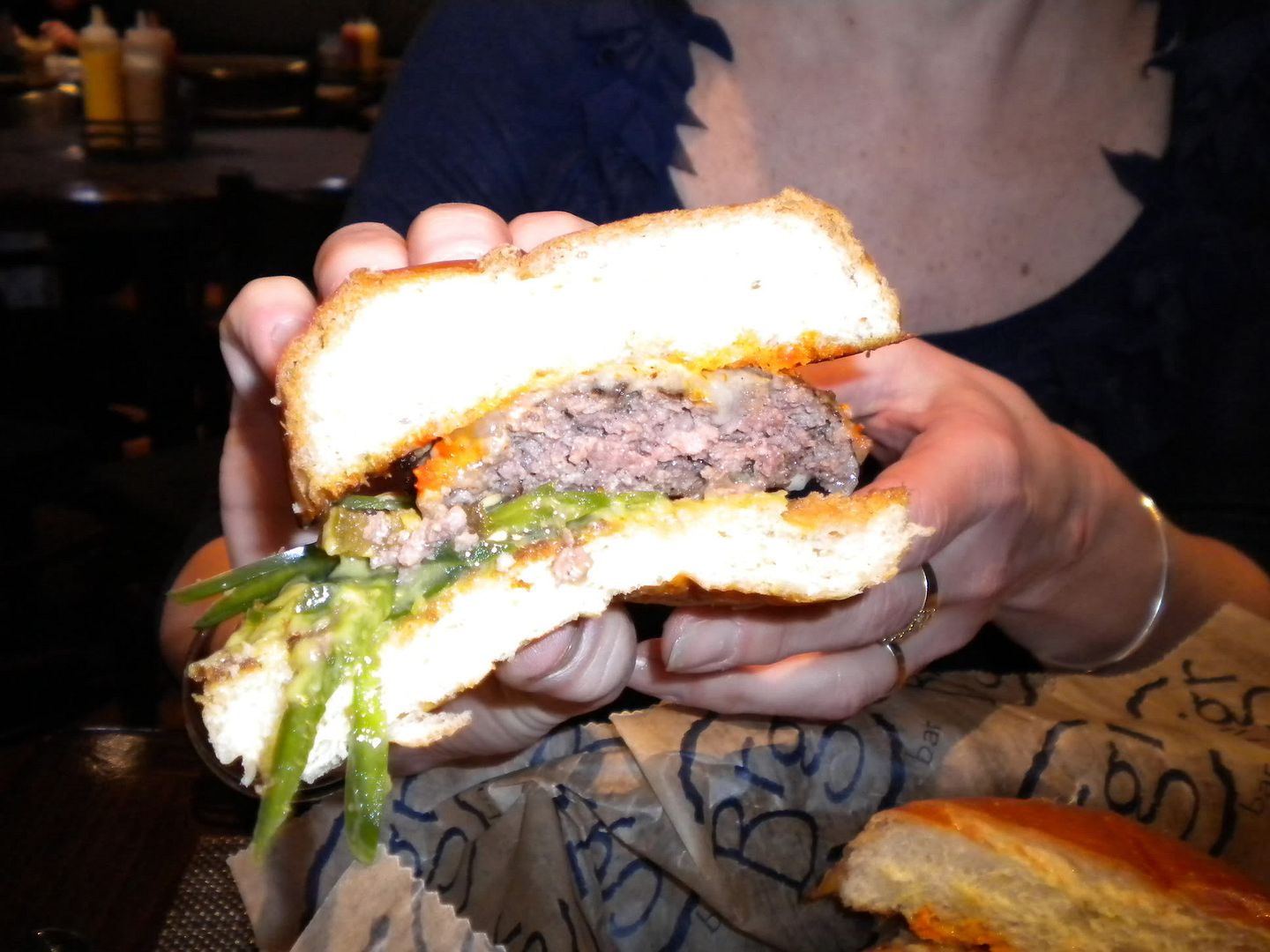 Fire in the Hole
This was my least favorite of the burgers. The raw cut jalapenos seemed out of place in a burger that already had pickled jalapenos on it. The guacamole was flavorless and added nothing to the burger. The chipotle mayo also was surprisingly mild.
All in all the burger was not that spicy for a burger called fire in the hole. This burger was ordered medium well yet came out medium. This burger was not bad , but could use some improvement.
My experience at Brgr was a pleasant one. The food was a little pricey, yet the quality more then made up for it. The quality and taste of the meat is always the most important aspect of a good burger, and Brgrs hamburger blend is top notch.
The whole concept of selling high end burgers with spiked shakes sounded like a pretty unique concept to me, till I heard that a place called Burgatory just opened up at Waterworks Mall in Fox Chapel selling the same thing. A new high end burger joint in Zelienople called Burgh'ers just opened up as well, minus the spiked shakes. Expect to see reviews of all these new burger joints in the coming months, as of right now the standard is set pretty high by Brgr.
RATING
Spiked Milkshakes
Cupajoe: 8/10
Salty Caramel: 7/10
Side
Fries tossed in Parmesan and Herb with Truffle Cheese Whiz: 9/10
BURGERS
Shroomz Burger: 7/10
Button Buster: 8/10
Fire in the Hole: 6/10
Overall: 7/10
Brgr bar
5997 Penn Circle South
Pittsburgh PA 15206
412-362-BEEF(2333)
Mon. thru Thurs. — Noon until 12am (Food served until 11pm)
Fri. and Sat. — Noon until 1am (Food served until 12am)
Sun. — Noon until 9pm
Brgr Menu