Taj Mahal is the most popular Indian restaurant in the North Hills of Pittsburgh. A lot of its popularity is due to the fact for the longest time it was the only Indian restaurant in the North Hills. There is a new Indian restaurant in Cranberry, but competition is still limited in the Northern area of Pittsburgh.
My experiences in the past with the Taj Mahal have all been pleasant. The lunch buffet in particular is very good, with a chance to sample a lot of different Indian dishes, as well as desserts.

Jalebis

For this review I ordered takeout. My order included the following: Galouti Lamb Patties, Naan Bread Basket, Chicken Tikka Masala, and Lamb Shami Korma. When I placed my order over the phone I was told the food would be ready in a 1/2 hour. Also I ordered all my food mildly spiced as I have found that in the past at the Taj Mahal, even medium heat is pretty damn hot, and tends to take away from the overall flavor of the food. When I went to pick up the food, I had to wait about 5 more minutes. During this time I looked in their dessert case at all the interesting desserts. If you have never had any Indian desserts, let me sum them up for you in two words, very sweet. From honey soaked balls of pastry, to Jalebis which resemble a pure sugar funnel cake of sorts, your sugar tooth will be satisfied and then some.

So to start off we have the Naan Bread Basket.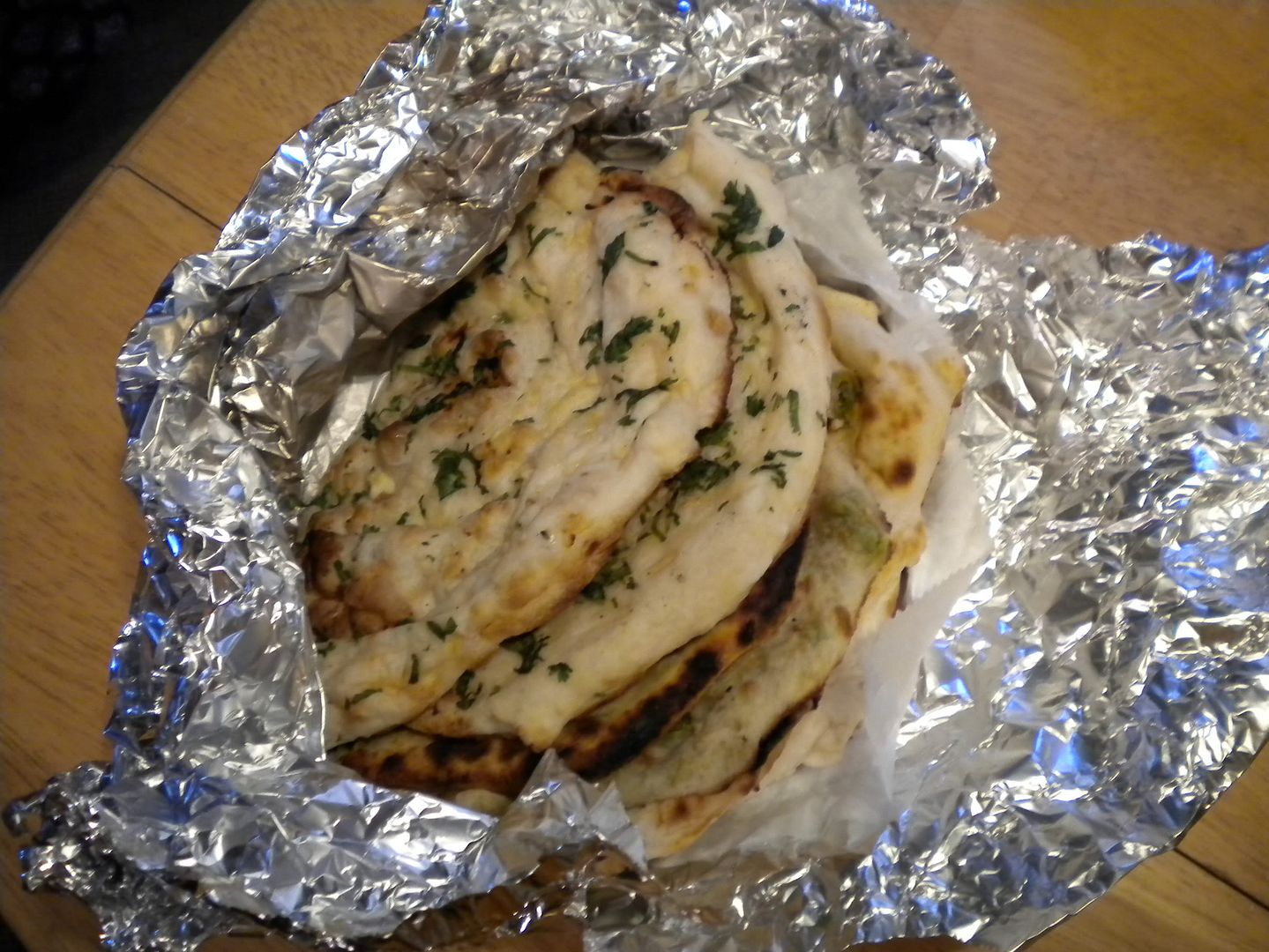 Naan Bread Basket $6.99
 What you get is 3 different Naan breads, which are pretty much flat unleavened bread, cooked in a clay oven. The 3 breads were Butter Naan, Garlic Naan, and Aloo Paratha (bread stuffed with mildly spiced potatoes). All were pretty decent, but my only complaint was that the Garlic Naan had a little to much cilantro in it. Cilantro in moderation is a great spice, but when used to liberally, it can overwhelm the flavor of any food its with.
Next up the Galouti Lamb Patties.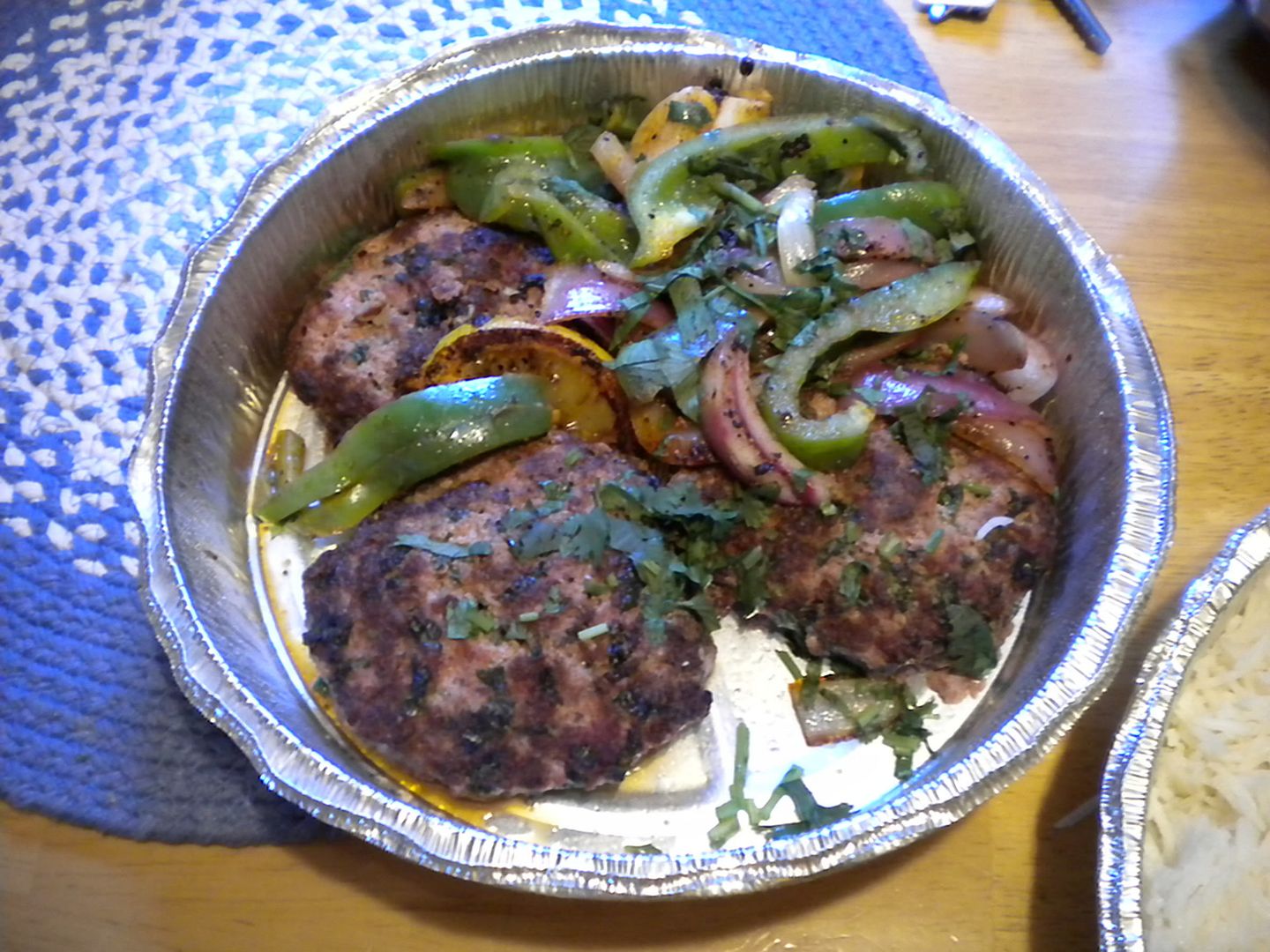 Galouti Lamb Patties $10.50

These were patties of ground up lamb meat, nicely spiced. You could taste flavors of lemon,corriander, cumin and cilantro in the patties. The patties were moist and flavorful. An Indian style hamburger is pretty much what you get here. My eating companion thought some type of sauce would have gone good with the patties, while not elaborating on what type. You receive 3 patties and a plethora of grilled green peppers and onions.
Chicken Tikka Masala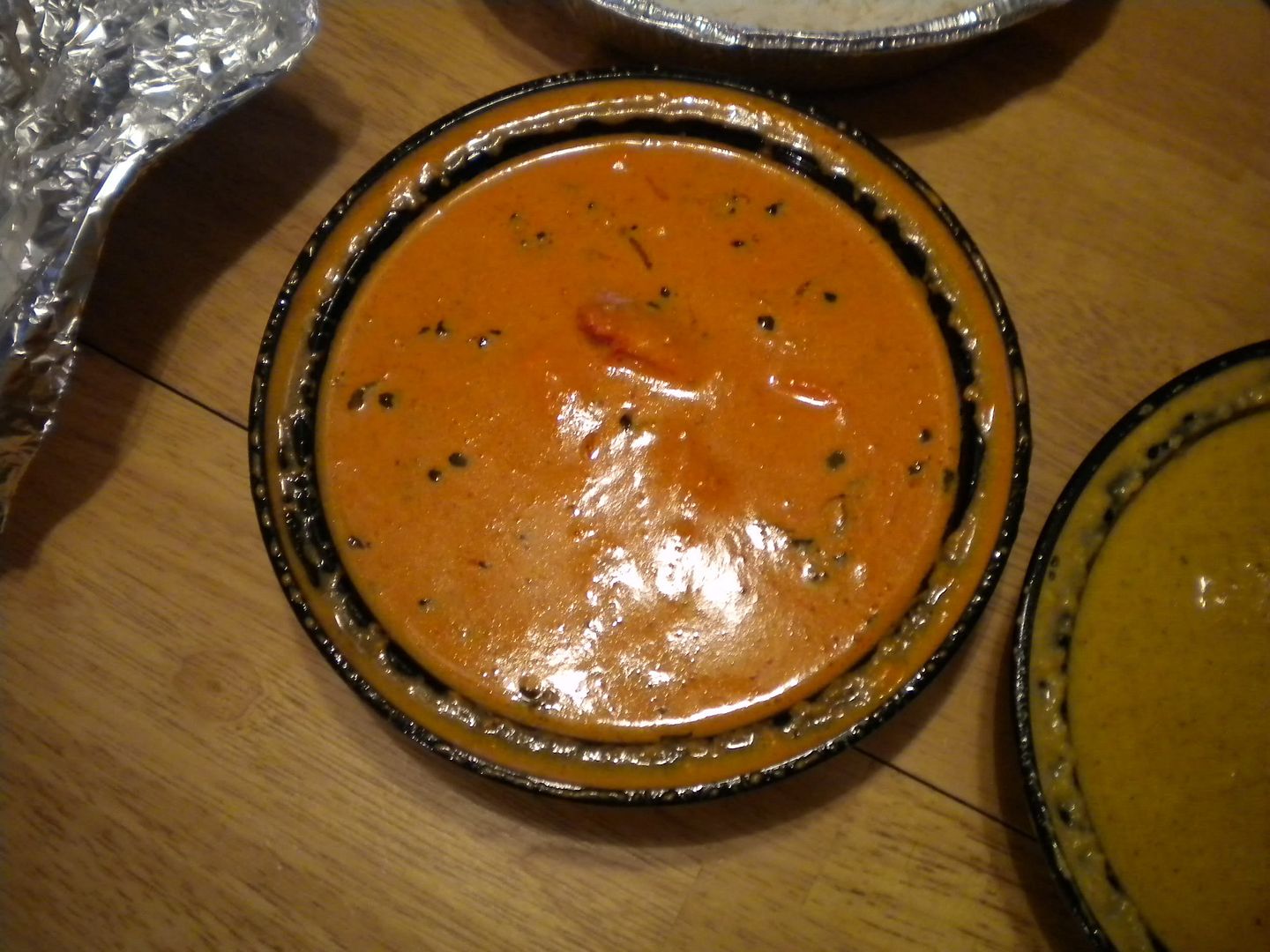 Chicken Tikka Masala $10.50
This has always been my personal favorite at the Taj Mahal. It is pieces of marinaded chicken from a tandoori oven, in a creamy tomato based sauce. The sauce itself was excellent with flavors of tomato and Indian spices,while the chunks of chicken were moist and perfectly cooked. The dish comes with basmati rice which you spoon the tikka masala over. If you have never had basmati rice, Taj Mahal makes some of the best. No Chinese restaurants rice can compare to how good this rice is. Taj Mahal's basmati rice is not at all clumpy and smells slightly of popcorn. It is a treat in itself. This Chicken Tikka Masala is pretty much perfect. Its also a great dish to start people off that have never had Indian food before.
This dish is boneless lamb pieces in a cashew and almond sauce. The sauce was creamy and slightly sweet with flavors of coconut and Indian Spice. Im not sure if there is coconut milk in the dish or whether the ground almonds and cashews give it that coconut flavor. The pieces of lamb were tender and juicy. Lots of flavors going on in this dish, yet it is very mild. Having not tried this before I was very pleasantly surprised. Now that I know of this dish, Im going to have a hard time deciding between this and the Chicken Tikka Masala. My eating companion thought this was the best Indian Dish that she had ever had. Once again this was served with Basmati rice in which the korma was spooned over top.
The entire meal


Rating
Galouti Lamb Patties: 7/10
Chicken Tikka Masala: 9/10
OVERALL 8/10
Taj Mahal Restaurant
7795 McKnight Road
Pittsburgh PA 15237
(412) 364-1760