P.F. Changs is a chain of Chinese style restaurants with locations throughout the USA. Their little niche is to provide typical American/Chinese food in a somewhat upscale environment, at reasonable prices.
Before going to see the epic soon to be Oscar nominated film Jackass in 3D at the theater, my two buddies and I caught some dinner at P.F. Changs. The restaurant is very ornate with a big ass horse statue out front, and huge modern style chandeliers in the main dining room.
Having made reservations online, we were quickly seated and our server brought us out assorted sauces to use on our food as we saw fit. The sauces included Thai Chili Sauce, Hot Mustard, Soy Sauce, Rice Wine Vinegar, Chili Oil, and Gyoza Sauce.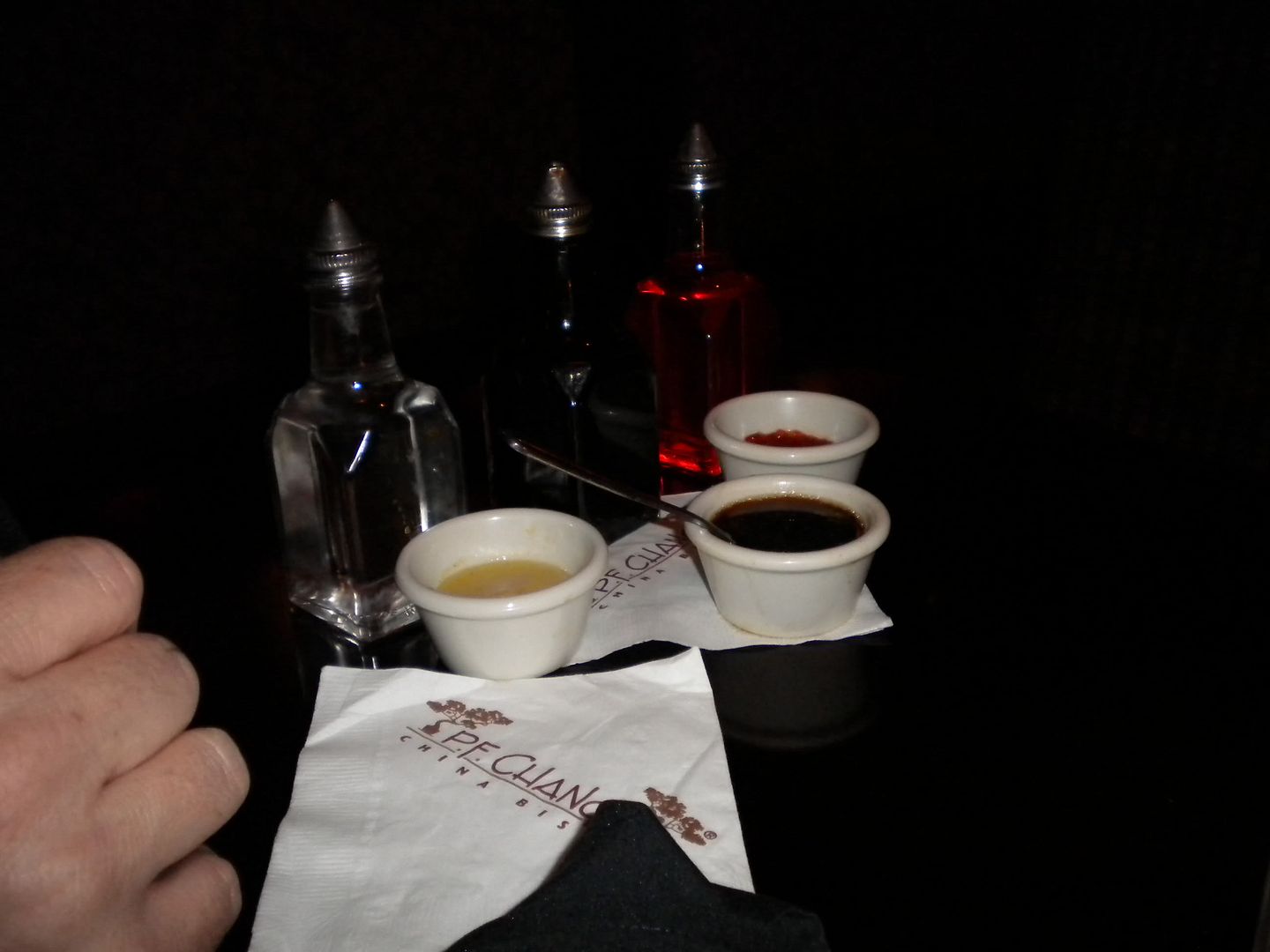 Sauces
My friends ordered the P.F. Changs for Two ($39.95) which includes soup, appetizer, an entree, and dessert. Their order included Hot & Sour Soup, Chicken Lettuce Wraps, Mongolian Beef, Changs Spicy Chicken, and two mini desserts, Lemon Curd something or other, and Tiramisu. For my order I got the Pan Fried Pork Dumplings and the Singapore Street Noodles. Being like a bunch of old women, and for the sake of this blog, we shared everything between all three of us.
First up was the Hot and Sour soup, to me it tasted very smoky with hints of a tobacco like flavor. My eating companions thought it was pretty decent but I couldn't really get over the strange tobacco taste.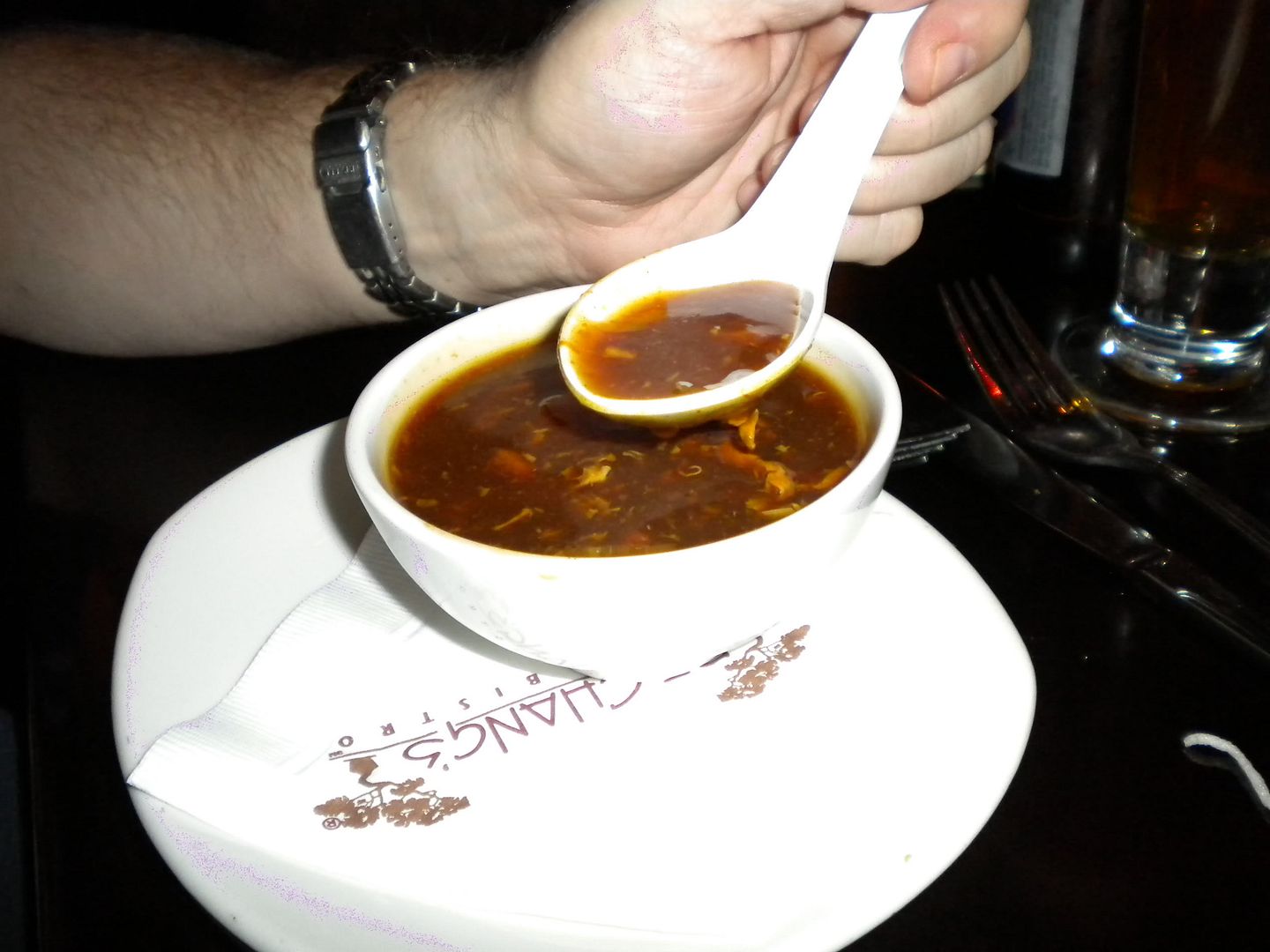 Hot and Sour Soup
The Chicken Lettuce wraps were an excellent appetizer, and would make a great entree for one person. Ground up chicken spiced with soy and Asian spices was placed on a platter along with crisp rice noodles.
Chicken Lettuce Wraps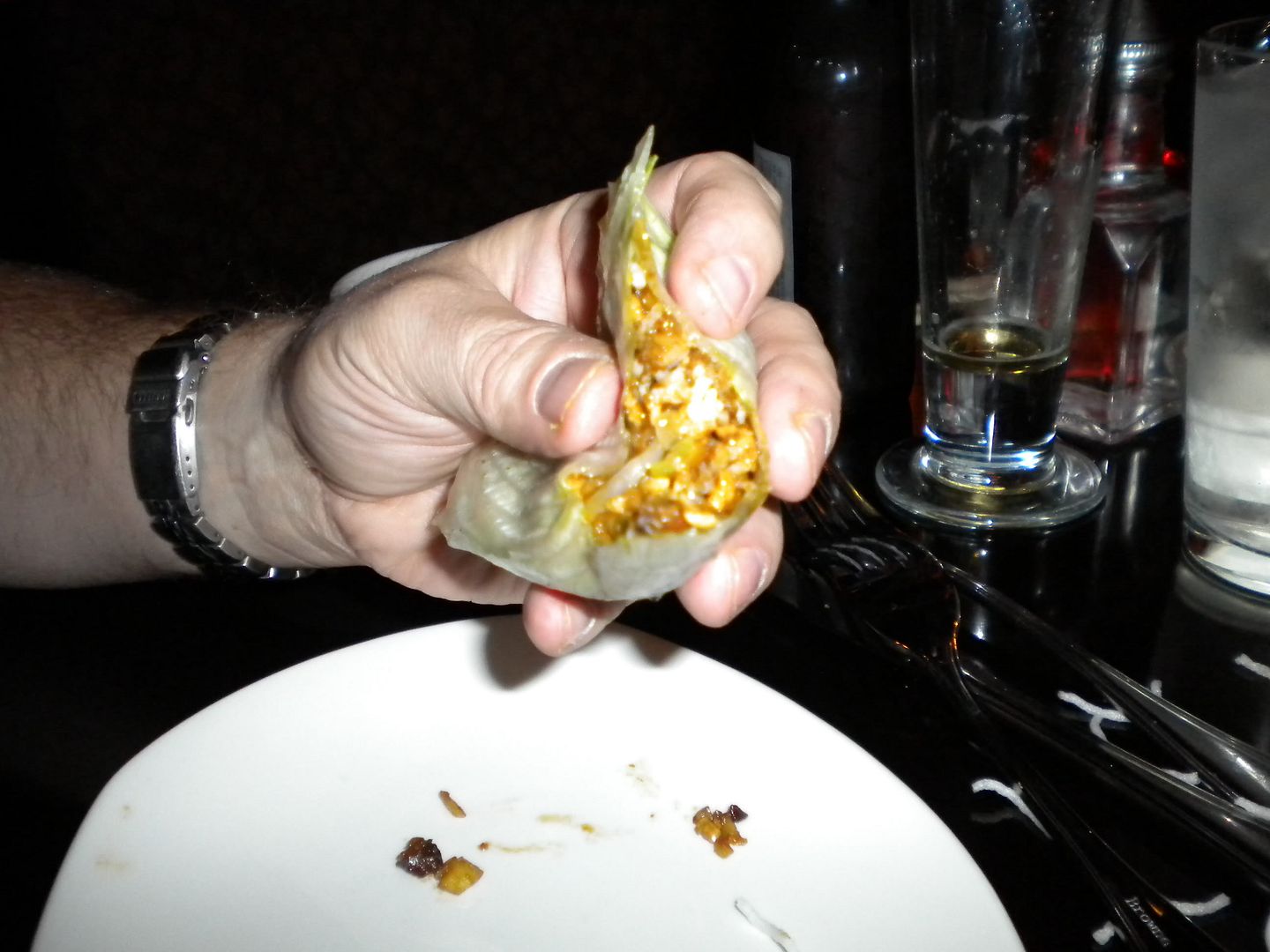 Chicken Lettuce Wrap In Action
You spooned the chicken and noodles onto the lettuce wrap and dug in. The lettuce was crisp and the chicken was moist and tasted great. The crisp noodles added a little bit of texture to the filling. Nothing to complain about here.
The Pan Fried Pork Dumplings were also good. The dough was slightly crispy. While the pork and vegetable mixture inside was moist and flavorful with the tastes of soy, ginger, and garlic. The dumplings had enough flavor and saltiness that there was no reason to dip them in the accompanying gyoza sauce, which is a spiced soy sauce.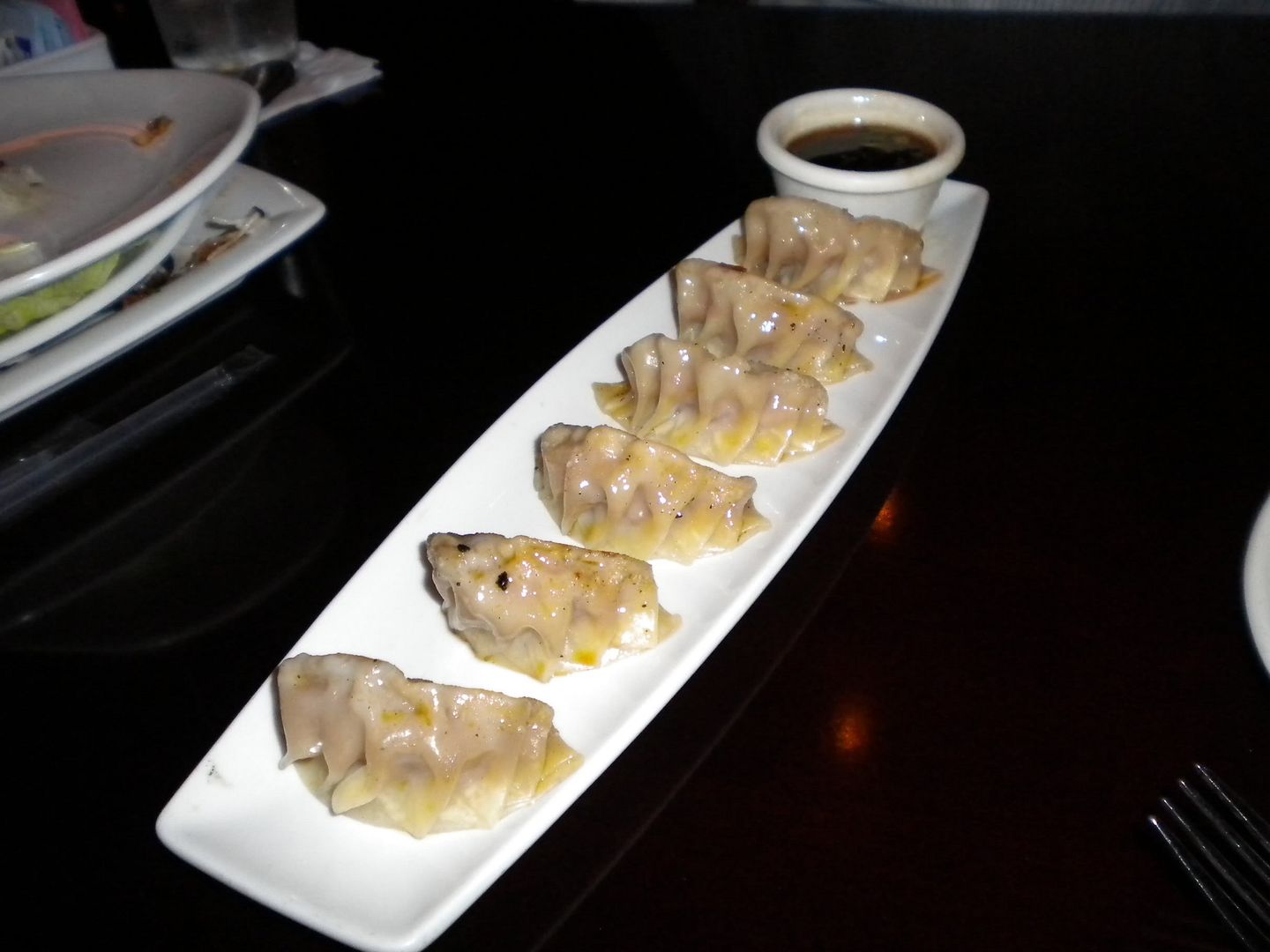 Pan Fried Pork Dumplings ($5.95)
The Mongolian Beef was tender slices of beef with green onions in a Chinese style brown sauce. While not as spicy as some Mongolian Beefs that I have had in the past, this version was pretty good when spooned over the rice that accompanied the dish.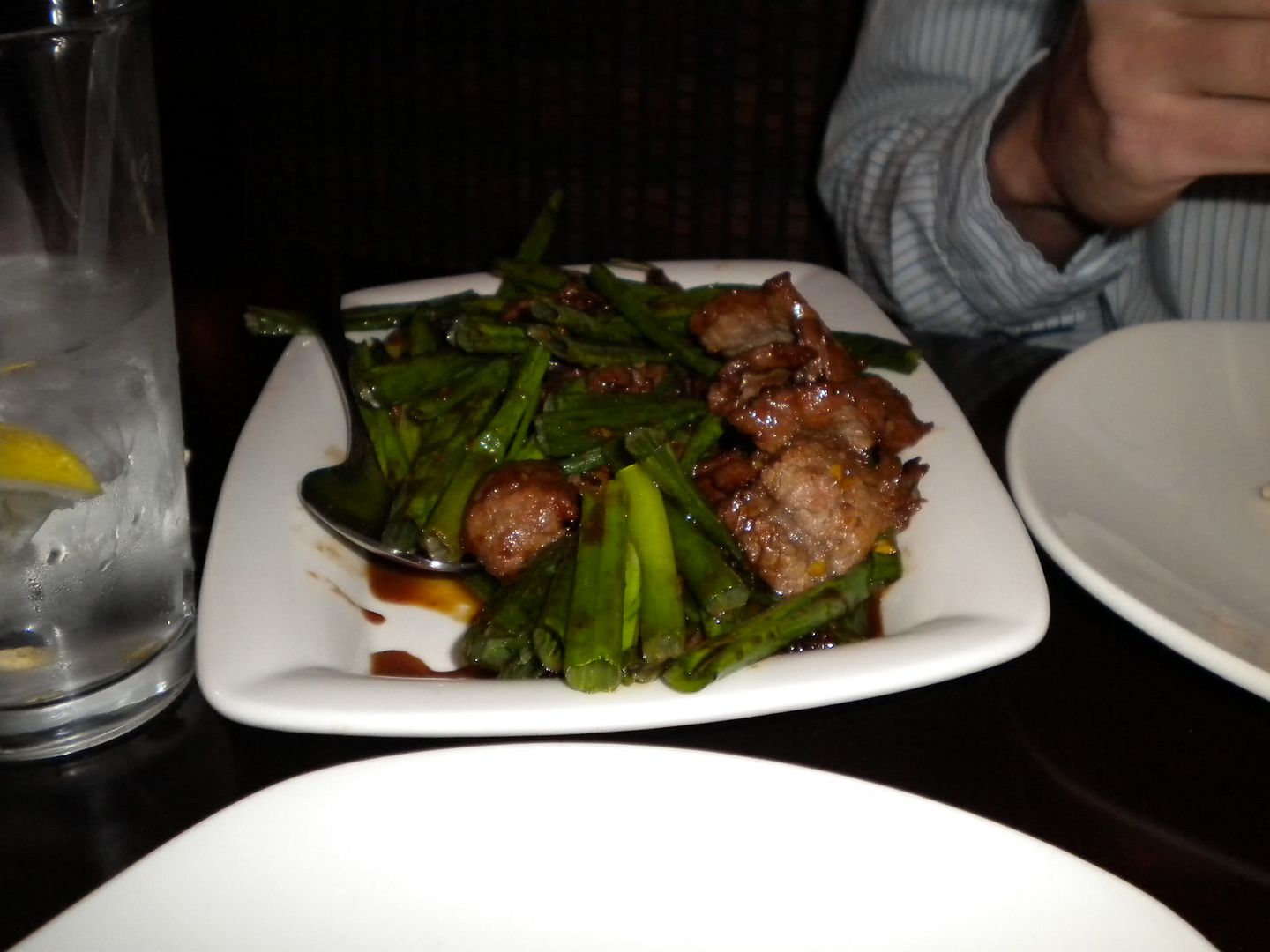 Mongolian Beef
Chang's Spicy Chicken was not really all that spicy. This is P.F. Changs version of General Tso's Chicken according to the menu. While the sauce was sweet and slightly savory, it could have used a little bit more hot chili pepper to zaz it up. The chicken itself was perfectly cooked, being crispy, and not to heavily breaded. Unlike normal General Tso's chicken, this was all white meat chicken, not thigh meat, as is traditionally used in General Tso's.
Chang's Spicy Chicken
The Singapore Street Noodles were disappointing to me. The noodles were cooked in a curry sauce which in itself was pretty good. There also was a good amount of shrimp and chicken mixed in with the noodles. The problem was all the cilantro, lemon grass, cabbage, onions, tomatoes and carrots included in the dish. It made the dish a little to busy as far as all the different flavors going on. Plus biting into whole pieces of lemongrass and cilantro is not the most pleasant thing in the world. If they would have used a little less cilantro and lemongrass as well as dicing it into the dish cut a little more finely, the noodles would have been better.
Singapore Street Noodles ($9.95)
The desserts were tasty yet comically small. Three spoonfuls and you were done. The Tiramisu was your typical layers of cake soaked in espresso, placed upon layers of mascarpone cream.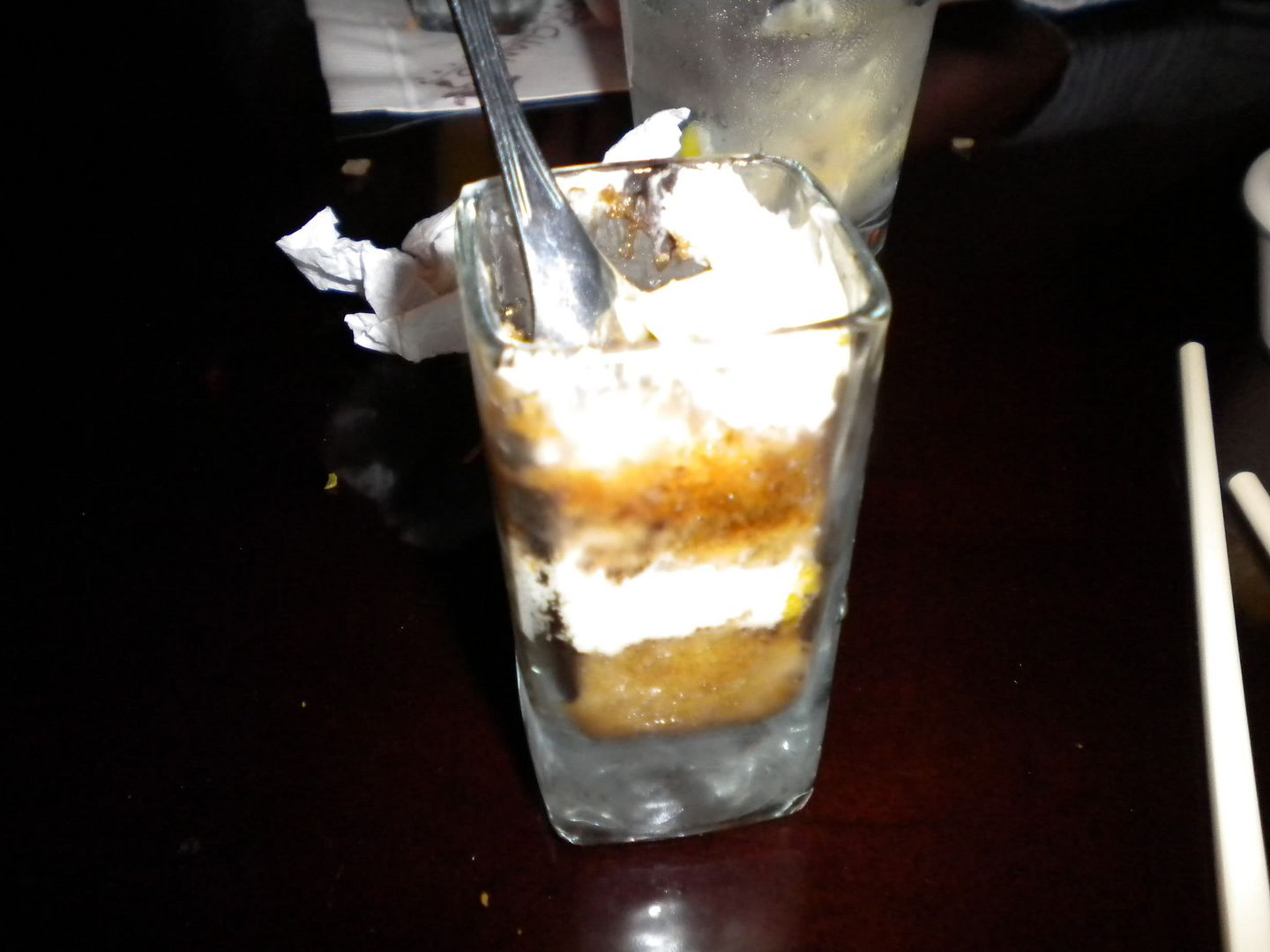 Tiramisu
The Lemon dessert was a tart lemon curd layered with whipped cream and shortbread crumbs.
Both were good yet so small that any enjoyment from them was short lived.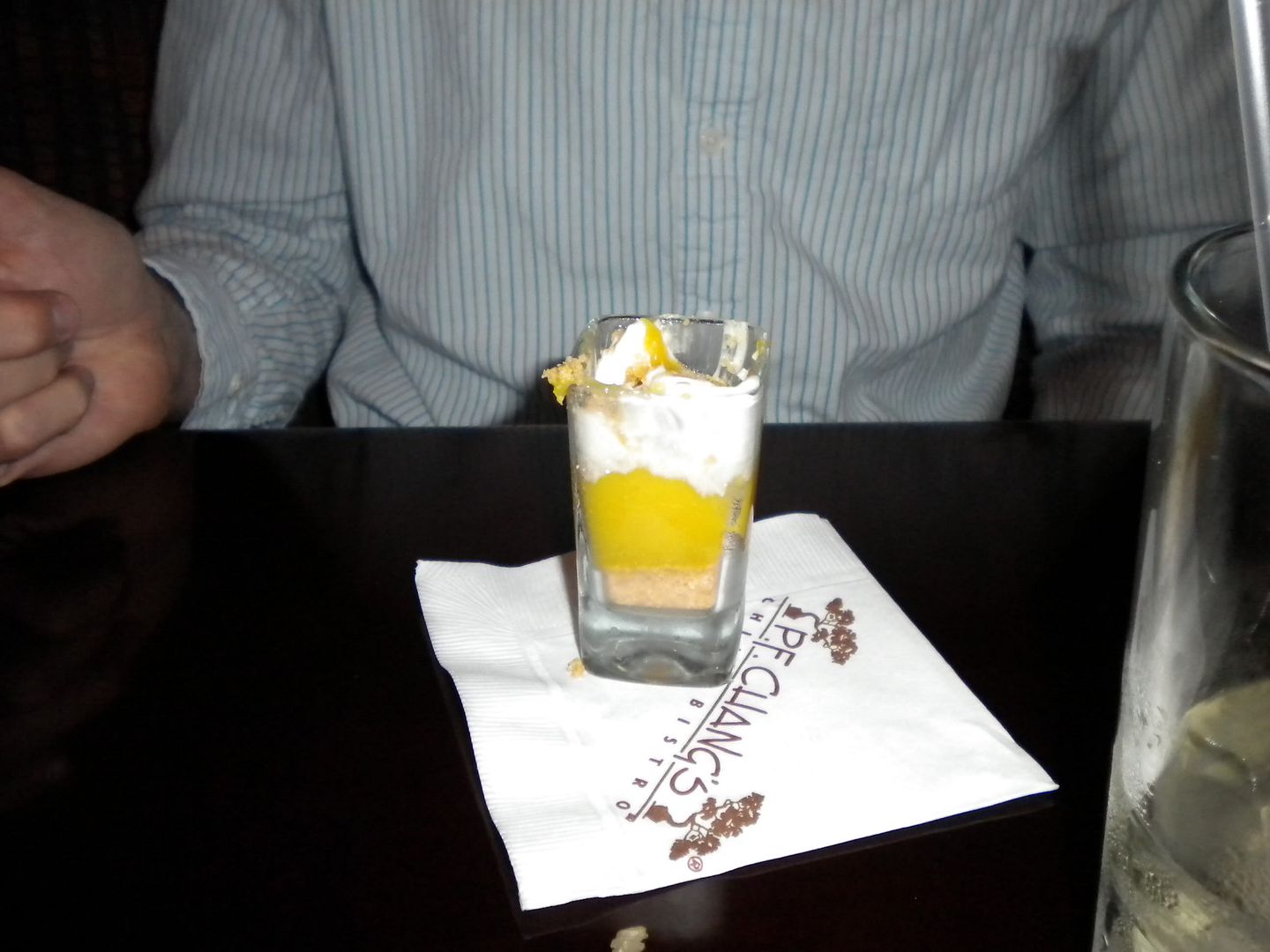 Lemon Something Or Other
P.F.Changs is good for what it tries to do. A chain restaurant, with decent food, and a nice atmosphere for socializing with your friends. If I had to choose between getting takeout between P.F. Changs and a number of local Chinese restaurants such as Sesame Inn or China Star, I would take the local Chinese, due to the larger portions and spicier fare. P.F Changs wont kill you in the wallet either however, there food is modestly priced compared to some of the national chain restaurants.
While I wouldn't make a trip out of my way to go to a P.F. Changs. It makes for a nice dinner if you are in the area going to a movie,club,bar, etc.
Special props go to our server who didn't deliver much food but was flirtatious and pleasant. Its always nice to have my tip go to someone who has a knack for making a bunch of middle aged men feel like Greek gods.
RATING
Hot and Sour Soup: 5/10
Chicken Lettuce Wraps: 8/10
Pork Pot Stickers: 7/10
Mongolian Beef: 7/10
Chang's Spicy Chicken: 7/10
Singapore Street Noodles: 5/10
Desserts: 5/10 (Tasty but to small)
Overall: 6.5/10
P.F. Changs China Bistro
Settlers Ridge
1600 Settlers Ridge Center Dr.
Robinson Township, PA 15205
412-788-2901
This post is dedicated to my pet/friend/co-taster of the past 16 years, Fuzz, who passed away last week. She will always have a place in my heart.