I headed out to Stoke's Grill on Mcknight Rd at the recommendation of some friends. Word of mouth had been mixed so I was pretty interested to see what Stoke's had to offer. A quick look at the menu shows that Stoke's specializes in sandwiches. They also have a large assortment of soups and salads, as well as specials of the day.
The way you order at Stoke's is a little different in that you place your order at the cash register. You then are handed a number and the food is than brought out to your table. You get your own drinks from a soda fountain. Stoke's is also BYOB in case you want to bring some malt liquor with you (and who wouldn't ?).
Crab Bisque ($3.95)
Sausage Lentil Soup ($3.95)
The soups were both excellent. The crab bisque had good crab flavor with a nice sherry finish. Very good. The sausage lentil soup was just like something Mom would make. It was a great winter soup with lots of lentils and chunks of country sausage in a thick and hearty broth.
White Fries ($4.85)






Stoke's has a bunch of different style french fries. From green fries with pesto and brie, to red fries with chili cheese and sour cream. I chose the white fries which are described as fries in garlic aioli , onion straws and Parmesan cheese. The fries were crisp and had a good but not overpowering flavor of garlic. There were no onion straws in my order of fries, but I enjoyed these never the less.
The salads that the skinny chicks ordered were all fresh and the girls seemed to enjoy them (well as much as you can enjoy a salad).
Larkshead ($8.45)


The Larkshead is a pretzel sandwich with roast beef, bacon, mushrooms, cheddar cheese, and Russian dressing. I was surprised that this did not come out on a pretzel style roll but an actual big ass soft pretzel. It was tasty but a little to greasy. The Russian dressing added a nice contrast to the savory beef and bacon. A decent sandwich overall. The homemade potato chips that accompanied the sandwich were unremarkable and made me happy that I had ordered the white fries as a side.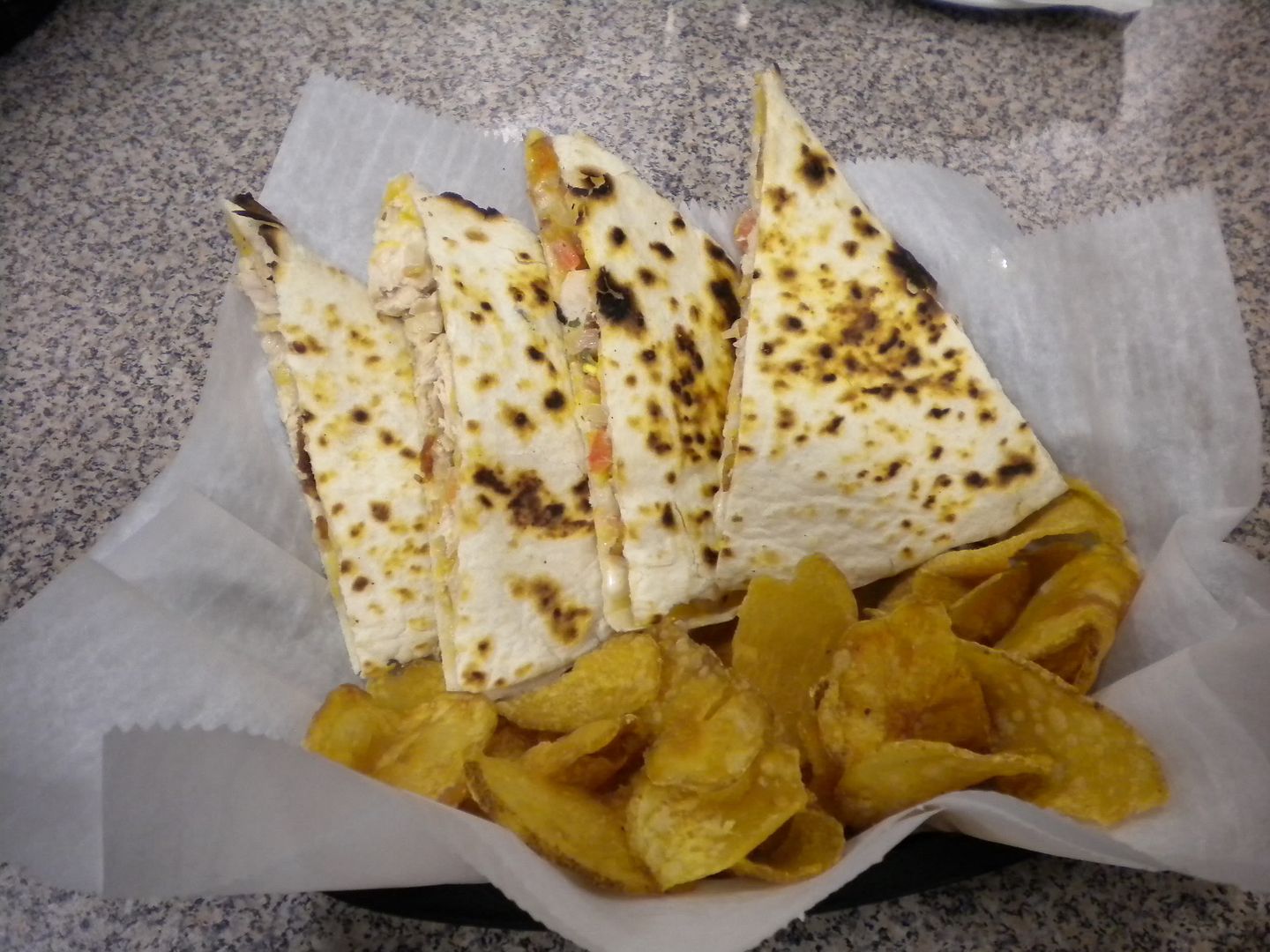 Frizzle Quesadilla ($7.65)
Two of my eating companions ordered quesadillas. The one had chicken, bacon, ranch, cheese and salsa. The other had just cheese and seasoned veggies. For review purposes I sampled the chicken quesadilla and found it had a good flavor. My only complaint being that the tortillas were slightly soggy from the salsa. The veggie quesadilla I did not try, but my eating companion (The Polish Princess) thought it was pretty crappy. She said that she would have rather had a Taco Bell quesadilla.
Reuben ($7.95)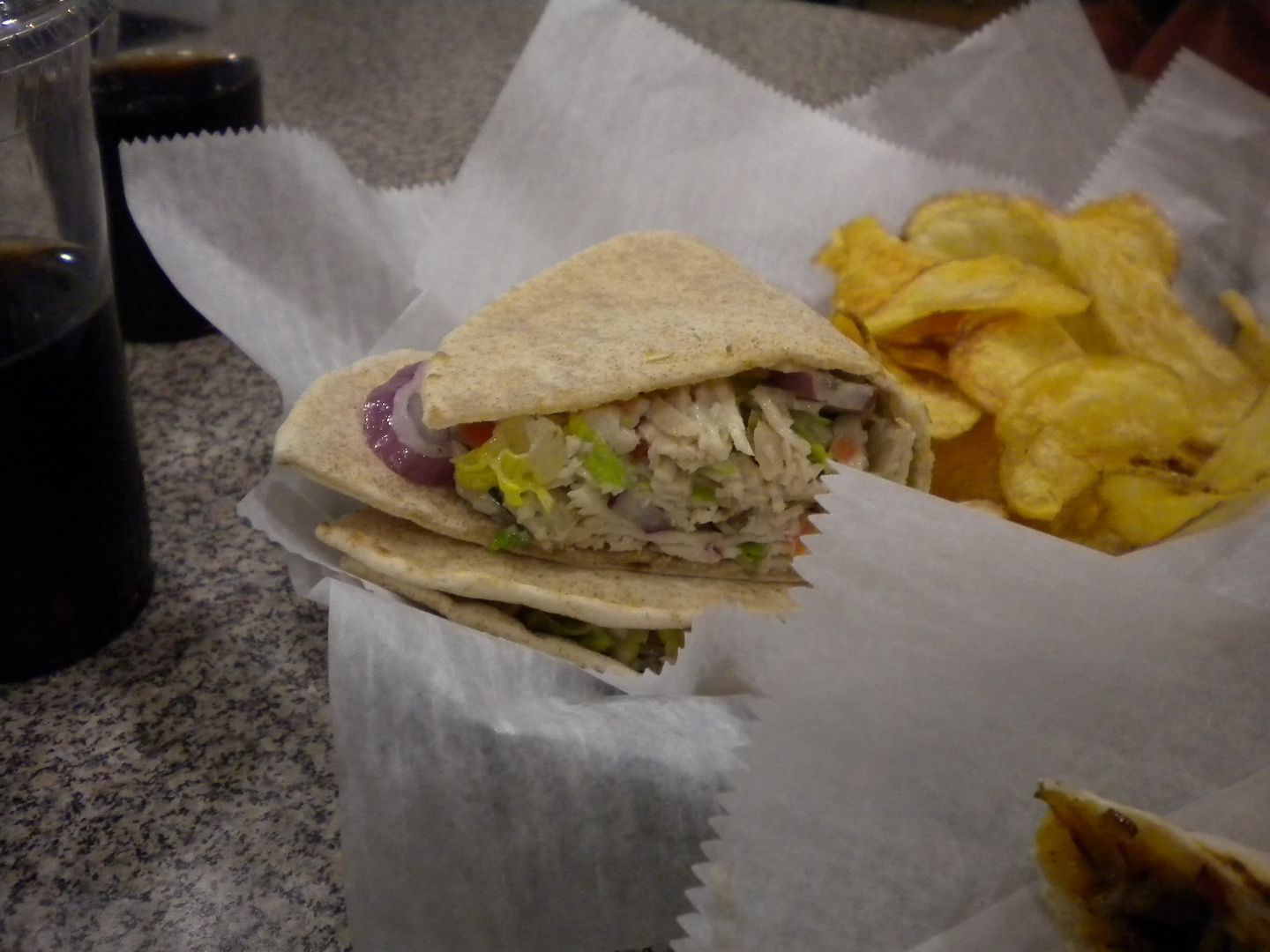 Turkey Pita ($6.95)
Some of the other sandwiches ordered were the Reuben and the Turkey Pita. My one friend said that the Reuben was one of the best he had ever had. While my other friend said the Turkey Pita was good but nothing all that special.
Would I go back to Stokes Grill? Yes. While a tad expensive for the type of restaurant it is, most of the food was prepared well and everything was fresh. The soups were very good and I might just stop in on a Friday to get some crab bisque to go. The sandwiches were all pretty decent, not including the Polish Princess's veggie quesadilla. Im looking forward to going back and trying some of the other sandwiches such as the Cuban and Italian Beef which are both two of my favorite type of sandwiches. So if your on Mcknight Rd, stop over at Stoke's. Service is relatively quick and it would definitely make a good place to go for a good lunch.
RATING
Soups: 8/10
Fries: 6/10
Sandwiches: 6.5/10
Salads: (Its a salad)
OVERALL: 6.5/10
No thrills sandwich shop. Slightly expensive for what it is. Better place for lunch than dinner. Very good soups. BYOB