Well I was just going to review Mike and Tonys Gyros on the Southside. But a friend at a forum I hang out at, who lives in the Southside, said that I should really try Lesvos Gyros. Lesvos is relatively new, and just a block away from Mike and Tonys. So lets find out who is king, in our Southside Gyro Throwdown.
First up Mike and Tonys.
Mike and Tonys has been the gold standard for gyros in Pittsburgh. Their gyros are known for being cheap and loaded with gyro meat and toppings.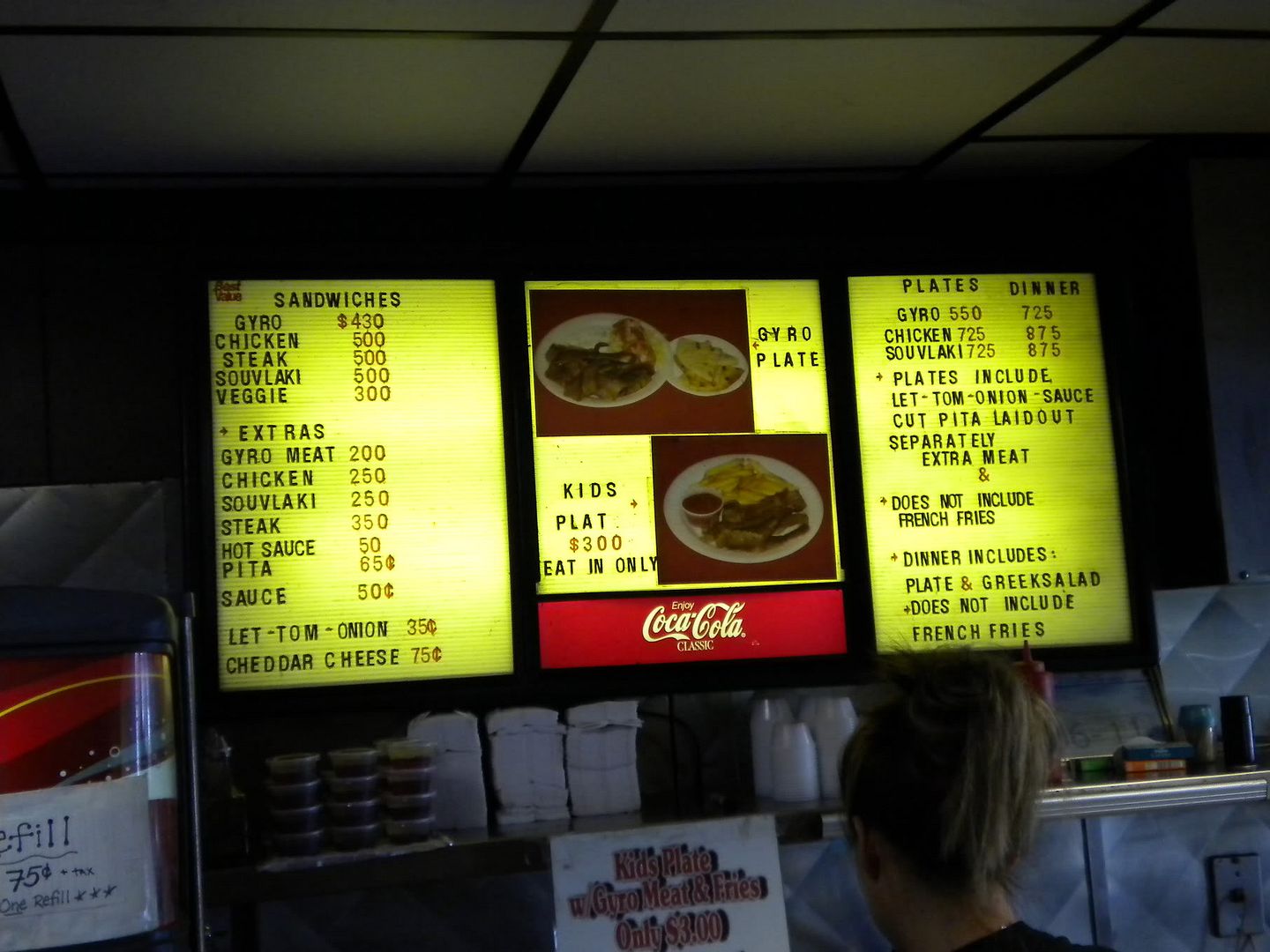 Mike and Tonys Menu
Mike and Tonys also sell Sovlaki which is similar to a gyro but instead of shaved gyro meat (lamb), it has pork cubes marinaded in oregano, garlic, olive oil and lemon juice.We will save the Souvlaki review for another day.
My gyro order was taken immediately. The price at $4.30 is a complete steal. Some guy over at the rotisserie shaves off thin slices of crisp gyro meat with some weird cutting device that sounds like an electric razor.
Shaving the gyro meat
The gyro comes with your typical gyro toppings, lettuce, tomato,onion, and tzatziki sauce(cucumber sauce).
The damn thing is just loaded with thinly sliced gyro meat. The meat is mildly spiced and is not overpowered with garlic and oregano. The tzatziki sauce has a nice tang to it. The veggies were all fresh and best of all they did not throw so much onion on it that you cant taste anything else. The pita was warm and fresh.
Mike and Tonys Gyro $4.30


In a nutshell their was nothing bad I can say about this gyro. It was not greasy, had great flavor, everything was fresh. About as near perfect a gyro as you will find.
So off to the up and coming Gyro shop, Lesvos. To see if they can compete with Mike and Tonys terrific Gyro.
Lesvos
In case you did not know, Lesvos is an island off the Greek mainland and is where the English word for Lesbian comes from. Now don't you feel smarter.
Lesvos is about the same size as Mike and Tonys with a small area of about 8 tables for dining. In addition they also have a nice cooler filled with tasty looking Greek desserts such as Baklava and other sides.
Desserts and Sides


Just like at Mike and Tonys they have loaves of gyro meat rotating around on spits.
Gyro Meat on Spits


The first thing I noticed at Lesvos that differed from Mike and Tonys was the preparation of the gyro meat. The man behind the counter took a knife to the gyro meat and cut off significantly thicker slices. After cutting these off he put the meat on the char-broiler and cooked the meat over an open fire.
Cooking the gyro meat with fire


I had never seen this style of preparation in a gyro before, so I was quite curious as to how it would effect the taste.
The gyro was then loaded with the typical gyro toppings. The tomatoes were sliced a little thinner then the tomatoes at Mike and Tonys, and helped integrate them better into the gyro.
As I bit into the gyro, I could taste the flavor in the gyro meat from cooking over an open flame. A nice charbroiled taste was noticeable that added a unique flavor. The only thing wrong with this gyro was that the gyro meat was a little dry. I'm not sure if this was from heating the meat up with fire or not. Also I did not like the thicker chunks of the gyro meat, preferring the thinner shaved slices of Mike and Tonys. The other toppings were all fresh, and I think that the tzatziki sauce is the same recipe or brand as the one Mike and Tonys uses, I was not able to discern any difference in taste between the two. The pita was fresh and I had no problems with a dry cracked pita as I ate this gyro.
Lesvos Gyro $4.67


So who is the big winner in the Southside Gyro Throwdown?
Lesvos(Left) Mike and Tonys(Right)


Your winner is Mike and Tonys.
Mike and Tonys gyro is near perfect in everything. Taste, freshness, price, portion.The only thing I would do to improve it, is slice the tomato thinner.
Lesvos's gyro was no slouch and I can see why they are getting good word of mouth. The unique flavor that you get from them cooking the meat over an open flame will have me stopping to get gyros there on occasion, and not exclusively at Mike and Tonys. If the meat had been sliced more thinly and been slightly more juicy, Lesvos might have won this throwdown. As it is, Mike and Tonys wins by a smidgen. To be honest, you cant go wrong by going to either one of these fine gyro shops. They are less then a block away from each other, so head out and do your own comparison, and see which gyro you find to be the best.
Mike and Tonys Gyro: 9/10
Lesvos Gyro: 8/10