North Park Lounge is a bar/restaurant that has been in business for over, well I'm not exactly sure, but its been open since I moved to Pittsburgh in 1979. They have always been known for their excellent fish sandwiches and large portions.
The original ownership group split up some time ago with one owner retaining the North Park Lounge in Mcandless, and the other retaining the North Park Lounge Clubhouse in Gibsonia. Both places have similar menu items such as "Lounge Fries" and "Lounge Licker Wings", but they are no longer affiliated with one another.
Any-hoot, me and one of my coworkers stopped in for lunch at the original North Park Lounge in Mcandless . Having been friends with one of the waitresses at the Lounge for a long time, I have eaten there a few times previously, and while I never had a really bad meal, I also have never had a really great one either.
After seating ourselves in my friends section, we ordered our drinks. Every time I go to the Lounge I make the mistake of ordering a water. The water for whatever reason is frickin horrific tasting. It tastes like 20 year old well water. As usual I change my drink order to a diet Pepsi, which does a good job of covering up the waters taste.
We were told that their was a promo to get a free 10" 4 cut pizza with two toppings, so we ordered that with sausage and pepperoni. My companion ordered the Italian Sausage Sandwich, I ordered the fish sandwich to see why everyone raves about how good it is.
Pizza: Free
Normally this Pizza would go for $6.99 plus 99cents per topping. At first glance the pizza looked pretty good. After tasting it I was underwhelmed. The sausage was bland and due to it being placed on top of the pepperoni, it fell off as soon as you picked up a piece. The crust was slightly crispy on the outside, but not crispy at all in the middle. The sauce, cheese, and pepperoni were average at best. So the pizza was a disappointment , but considering it was free, no big deal. Had I payed $8.99 for this, I would have been displeased.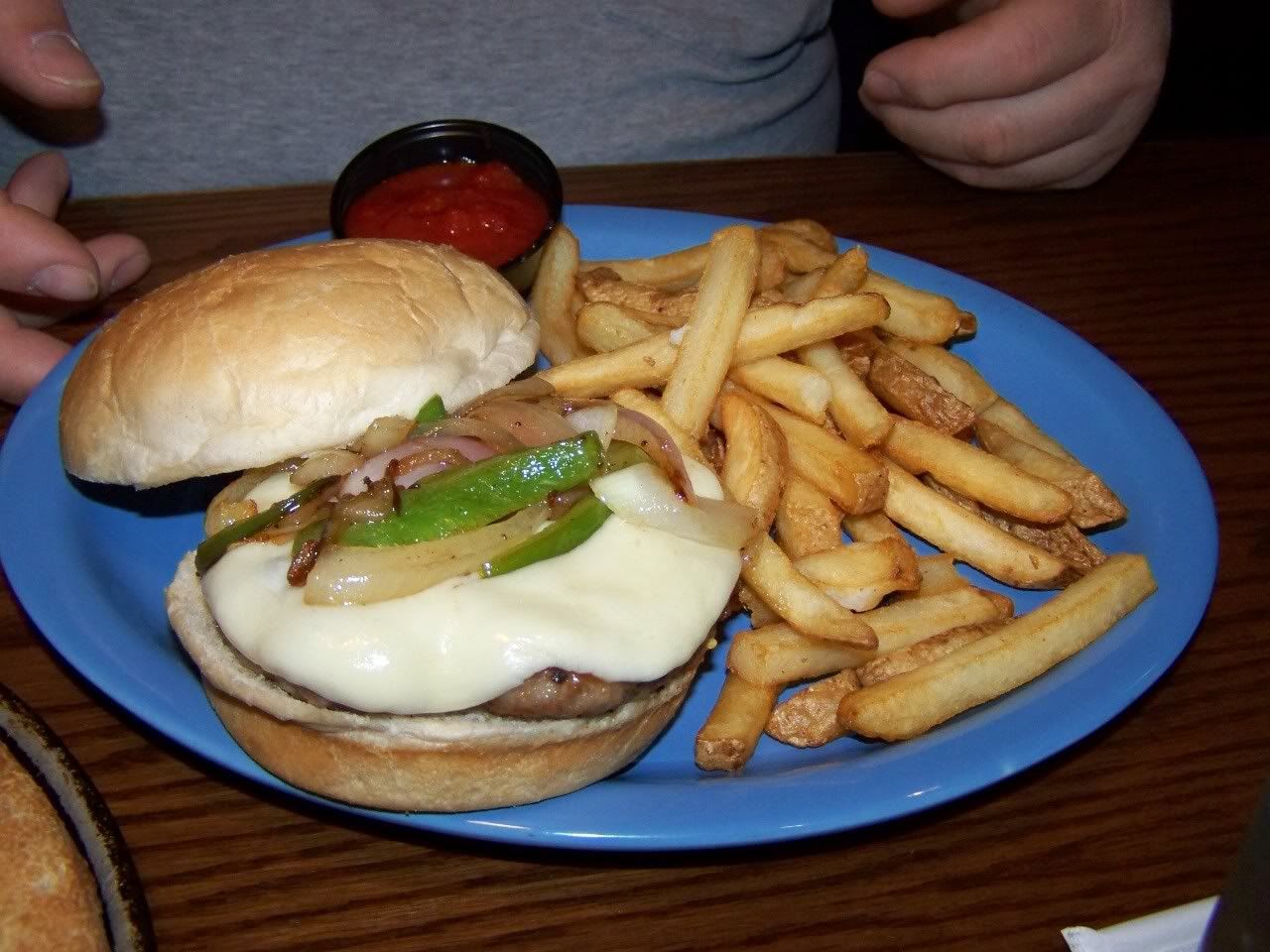 Italian Sausage Sandwich $7.99


 First off let me say that my eating companion is not a picky eater in any sense. He will eat pretty much anything. His sausage sandwich looked good, but like the pizza, looks are not everything. The peppers and onions could have been cooked a little longer. The fries he commented on as being flavorful but not crispy. The big disappointment was how undercooked the Sausage was.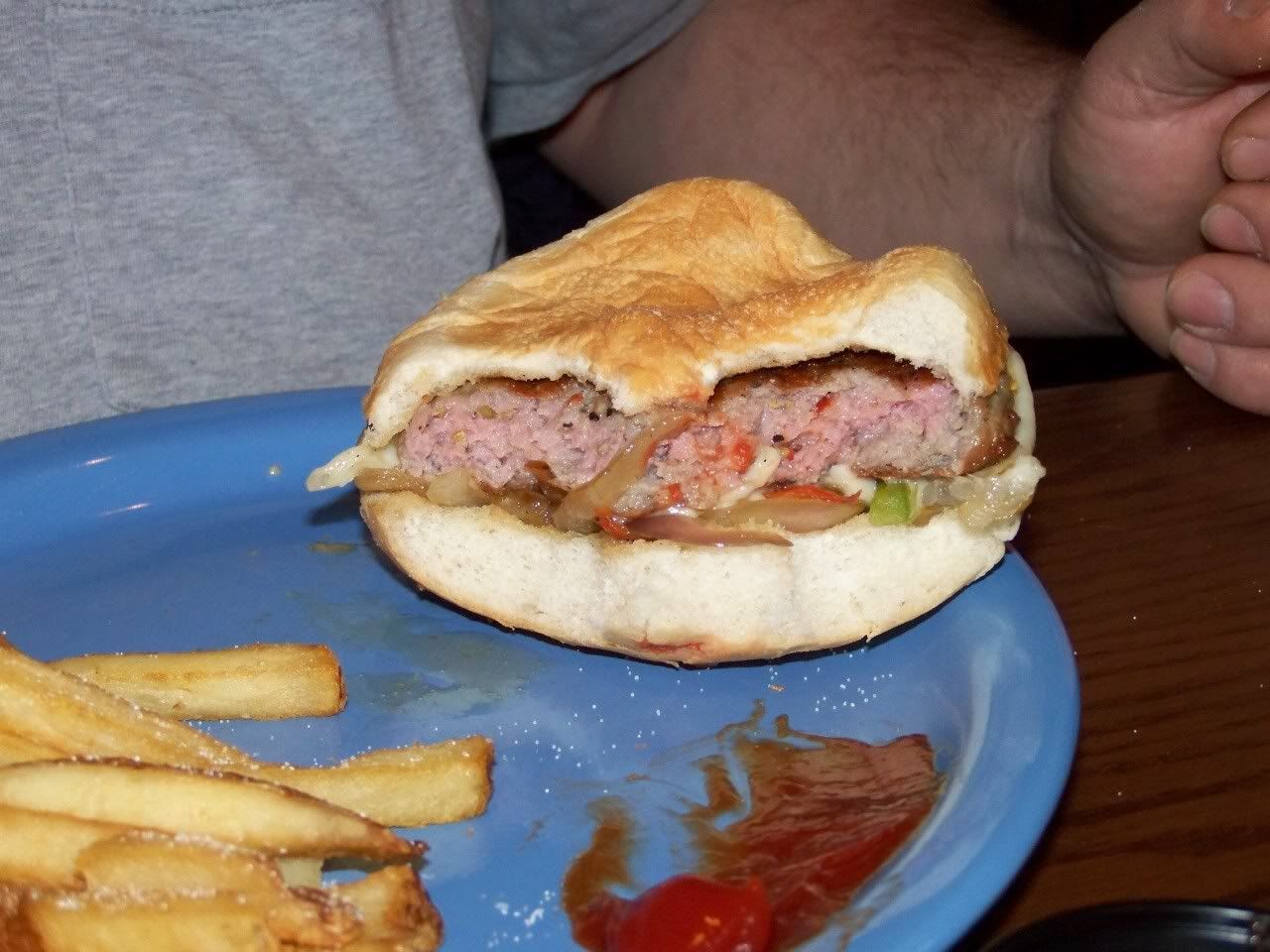 Undercooked


The sweet Italian sausage was quite pink in the middle. Not exactly how you want your sausage cooked. Now I am no food safety Nazi, but a lot of people would be repulsed by this. My companion said to hell with it and ate the sandwich anyway. In actuality, undercooked pork is just as safe to eat these days as beef, but I am sure most people would be turned off by this undercooked sausage patty anyways.
Fish Sandwich $7.99
The fish sandwich came with fries and coleslaw. The fish itself is actually kind of small compared to most fish sandwiches you can get in restaurants around the Pittsburgh area. The fish appeared to be breaded, and was void of any flavor at all. A beer batter or some seasoning in the breading would have helped immensely. The actual fish fillet also had zero flavor. The bun was dried out and stale. An insider (my waitress friend) told me that the bun was dry because the cooks in the back start cooking the fish as soon as the order comes in, fish only takes a few minutes to fry,so the sandwich pretty much sits and bakes under the heat lamps, while the rest of the order is completed. If it was not for adding tartar sauce and a lot of Franks Red Hot, this sandwich would have really sucked The fries were as my companion stated earlier, flavorful but not at all crispy. The coleslaw was decent and tasted fresh.
Houston: We Have No Flavor


This trip to the North Park Lounge was by far the worst I had ever had. The food is usually mediocre, but this was pretty bad. Why anyone would consider this fish sandwich the best in the North Hills is beyond me. Let me also add that the whole menu is pretty uninspired and could use some revamping. I'm sure that one day I will return to North Park Lounge if for no other reason, then to see my waitress friend that works there. Lets hope that the food has shown some improvement my next visit.
Rating
Pizza : 6/10 (Bonus points because it was free)
Italian Sausage Sandwich : 3/10 (Minus points for being undercooked)
Fish Sandwich : 6/10
For the love of god someone buy a water filter, so the water does not taste like
butt sweat.
North Park Lounge
8701 Babcock Blvd
Pittsburgh , PA 15237
(412) 364-9878
NP Lounge Web Site