Well here I am in beautiful Cleveland . Being from Pittsburgh I was expecting the worse. A barren wasteland with burned out factories, and people with hockey goalie masks driving around and killing people for their gasoline. Instead I found a beautiful city with a picturesque lake front, clean downtown area, and vibrant suburbs.
So after a visit to the
Rock and Roll Hall of Fame
, it was off to Lakewood Ohio. Lakewood sits on the outskirts of Cleveland about a 10 minute drive from downtown. Its a beautiful community with houses that remind me of the one the Cunninghams lived in on the TV show Happy Days. The destination was
Melt Bar & Grilled
as seen on both Diners Drive-ins and Dives, and Man vs Food.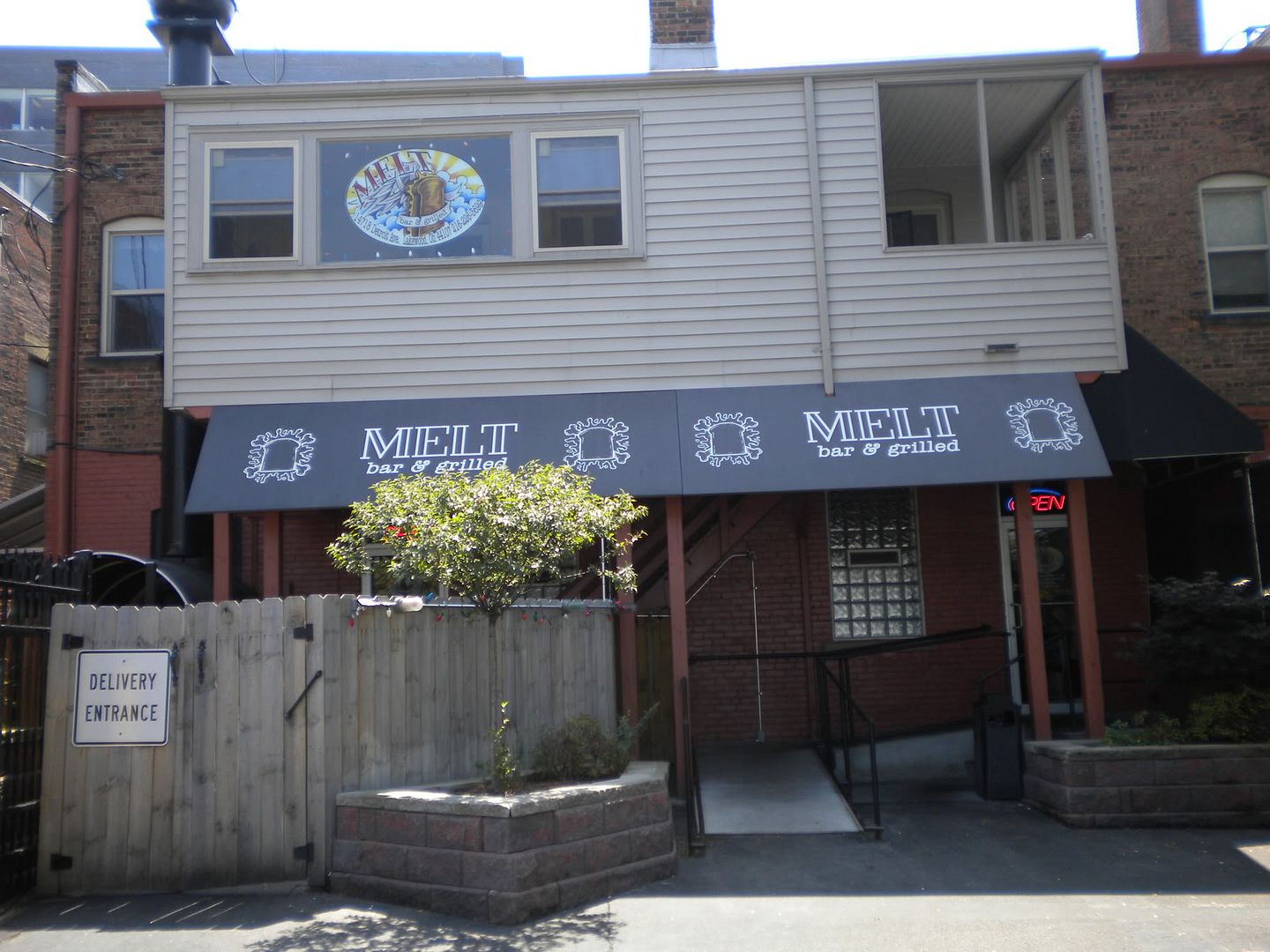 They even have there own funky van .
My companions and I walked in and were told there was going to be a 35 minute wait. Which was not to bad. The restaurant has about 25-30 tables and is quite popular,so expect a wait no matter what time you go.
Since we were waiting, it was time to hit the bar. Which has some very unique decor to say the least.
My companions both ordered the Watermelon Margarita, and I ordered a
Great Lakes Brewery Dortmunder Gold
.
The watermelon margaritas were disappointing with a flavor that resembled grapefruit more so then watermelon. My companions could taste no watermelon whatsoever, while I could only detect it slightly. The Dortmunder Gold was a great example of a flavorful German style lager, brewed only a few minutes away in downtown Cleveland.
We were sat after about a 45 minute wait. The second round of beverages included an
Anchor Steam Beer
for me, and St Louis Framboise for my companions. The Framboise was brewed in Belgium and was very similar to the more popular Lindemans Framboise. The St Louis I found to be sweeter and slightly less 'beery" then the Lindemans. Framboise by the way is a Belgiun style of raspberry fruit beer, where the beer plays second fiddle to the fruit flavors. It almost tastes like a raspberry champagne.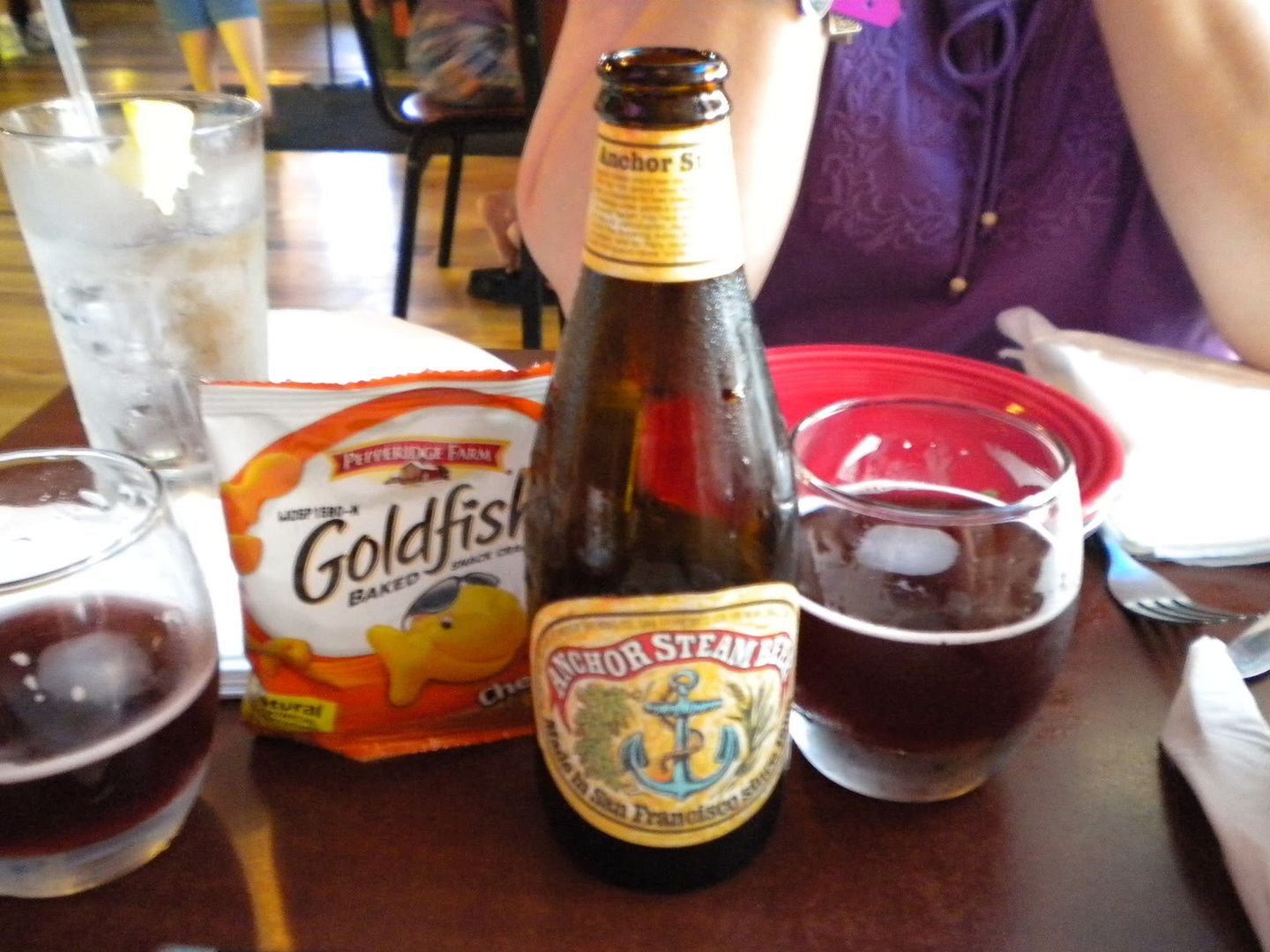 Even more impressive was the friendly couple sitting next to us from Toronto, who couldn't stop raving about how cheap everything was in Cleveland. They continued being thrifty consumers by buying a big ass can of Pabst Blue Ribbon, a truly impressive sight.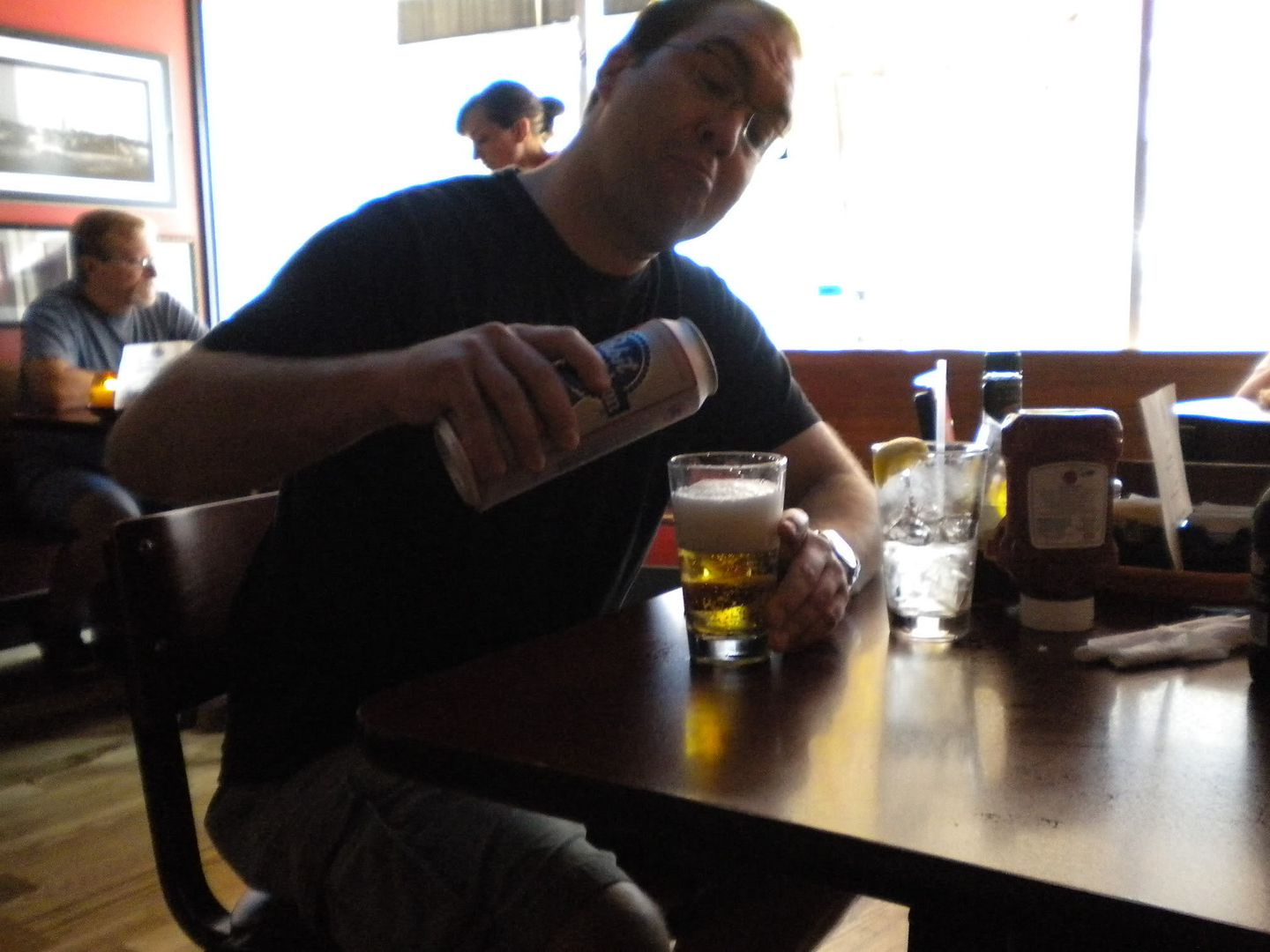 For appetizers we ordered a cup of the Cheeseburger Macaroni Soup, and Corn on the Cob with garlic butter. Both daily specials.
The cheeseburger macaroni soup was despised equally by both my eating companions (one of which is my mother). My Mother said it reminded her to much of Cheeseburger Hamburger Helper. Well let me tell you I love me some Cheeseburger Hamburger Helper, and I found the soup to be excellent. Calling it a soup might have been a stretch because it was more like a conglomeration of macaroni, beef, and cheese, not at all liquidy. It reminded me of Hamburger Helper with more cheese and more complex spice notes. (Sorry about the picture, I am new to this blogging thing and I have to remember to take the picture before I almost eat the whole thing. The soup was served with Goldfish Crackers, shredded cheese and a slice of dill pickle on top.)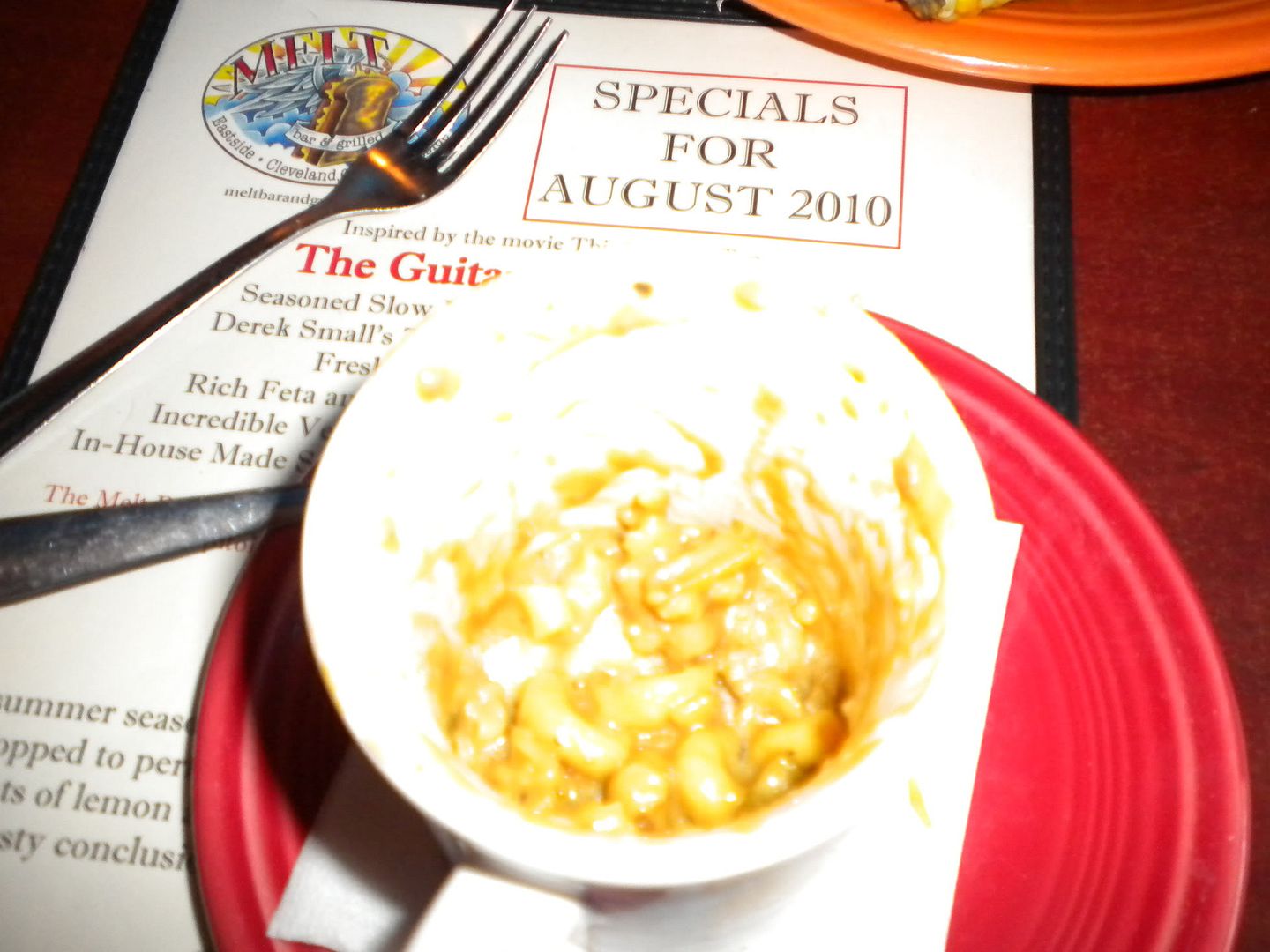 The Garlic Butter Corn on the Cob was the biggest disappointment of the meal. If there was garlic butter on the corn, it was very hard to detect. But that problem paled in comparison to the fact that the corn was ice cold. We sent it back and told the waitress to take it off the bill. She was kind enough to offer to package the cold corn up for us , but we refused.
Melt is known for there great sandwiches and at this point in our meal we were hoping that they could save our meal from disaster.
The sandwiches included the
Westside Monte Cristo
honey ham, smoked turkey, swiss, american, beer battered, mixed berry preserves - $10.00
A great example of a classic sandwich . The highlight being the mixed berry preserves that my mother dipped the sandwich in.
Smokey Russian
smoked turkey, fresh napa vodka kraut, smoked gouda, russian dressing - $9.00
Truly an excellent sandwich. Im a big fan of smoked gouda, and it teamed up well with the turkey and kraut. The Kraut was not at all like a sauerkraut. It was whole leaf marinated napa cabbage, and I found it fit well with the sandwich. Regular sauerkraut can tend to overwhelm the flavors of anything you put it on, so the vodka kraut really let the flavors of the smoked turkey and gouda shine through. Also the Russian dressing was fantastic. It was sweet with flavors of garlic and onion , and made a great accompaniment to the sandwich.
Sweet and Smokey Steak
grilled flank. caramel port onions, smoked gouda - $11.50
Pretty straightforward sandwich. My companion ordered the steak medium well. The steak was slightly chewy and tended to separate itself from the sandwich when you bit into it. Think a very thin sliced or chipped ribeye would have gone better with the sandwich, but other people will enjoy the thicker cut.
All sandwiches come with Slaw and Fries. The fries were above average being slightly crispy and well seasoned. The slaw was unique. It was a vinegar based slaw, which is not unusual in itself. What was unique was the amount of ground black pepper in the slaw. There was so much in the slaw, that the slaw was actually spicy hot. It reminded me of the time a good friend of mine was making stew while camping and accidentally poured a half can of ground pepper into it. Anyways, while I enjoyed the slaw, I think just a tad less black pepper would make this slaw even better.
Remember also that if you get a tattoo of Melts sandwich logo, you will get 25% off for life. Or untill you realize you have a sandwich tattooed on your body and elect to have laser surgery removal.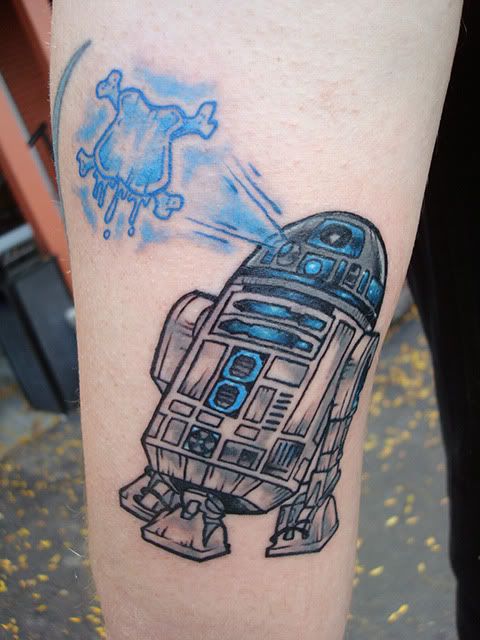 In conclusion Melt came through where it mattered most, the sandwiches. While the appetizers might need a little work , the sandwiches that I tasted were fantastic. The drink prices were very cheap, especially compared to the norm here in Pittsburgh. Melt usually has a sandwich of the month and they obviously are not afraid to take chances.
Im looking forward to going back to Melt on my next trip to Cleveland, and trying out another one of there unique sandwiches. For those of you who haven't been to the Cleveland area recently, do yourself a favor and take a day trip, I think you might be as pleasantly surprised as I was.
Rating 7/10
MELT Bar & Grilled
14718 Detroit Ave.
Lakewood Ohio 44107
(216) 226- 3699